Health
Best Tear Stain Remover For Shih Tzu – Dog Tear Stain Remover Of 2021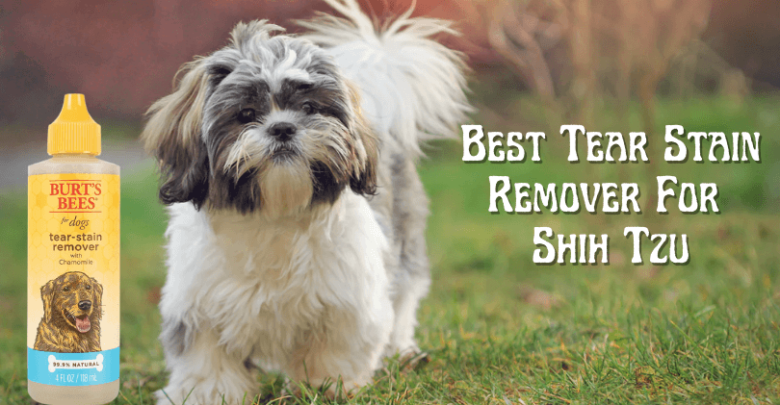 Small breed dogs such as pugs, bulldogs, miniature poodles, Yorkies, and Shih Tzu are prone of tear stains due to genetics. These tear stains are usually reddish-brown or red in color due to the presence of porphyrin in tears. 
Initially, tear stains are harmless. They just look weird and annoying. But, if you let them accumulate, they can lead to irritation and skin problems. This is why taking care of them on a regular basis will keep your doggo stain-free and happy!
How to clean Shih Tzu tear stains
To reduce the incidence of tear stains, it is important to identify the reason behind the tears and tackle them. Unfiltered tap water, food, allergies, eye infections are common causes. Genetics also play a role. Once you have identified the problem and taken measures to tackle it, you can go ahead and look for a way to clean the existing tear stains.
There are specific wipes that will help you but here's what you should keep in mind:
The wipes should be formulated specifically for tear stains

They should have only natural ingredients because chemicals can aggravate irritation

They should also be pH balanced
Wiping your Shih Tzu's tear stains is easy.
Using the product, wipe your dog's eyes gently. 

Do it in 3 swipes on each side – one upwards, one downwards, and one along the cheek.

If the tear stains are red, it could be a yeast infection. In this case, you will need a stronger wipe.

Follow this process every day at least 2 times and you will see results within 2 weeks. Regular usage is a must here. 
Best Tear Stain Remover For Shih Tzu
Now, we shall help you buy the right products for your little fur buddy. 
1. Burt's Bees for Dogs – Tear Stain Remover

If you thought Burt's Bees only makes awesome products for humans, you are wrong. They make some great stuff for pets too such as this tear stain remover that has some excellent features. Let's take a look
It is a natural stain remover consisting of chamomile. It soothes and removes stains while having a nice calming effect.

It is pH balanced and can safely be used on dogs and puppies alike.

It does not contain any chemicals, colorants, sulfates, or fragrances.

It directly acts on particles responsible for stains and works to deter their action.

The stain remover needs to be used at least once daily. You will be able to see results within 30 days.

---
2. Angel's Eyes Gentle Tear Stain Wipes – Dogs and Cats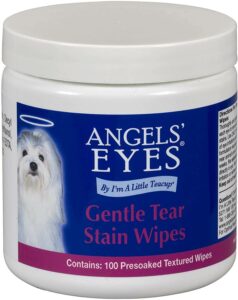 These are textured and pre-soaked tear stain wipes for dogs and cats, ready to be used right out of the box. Here's why we recommend them:
The wipes can effectively remove secretions, tear stains, and dried mucus around the eyes and wrinkles.

They also work to reduce irritation that steams from accumulated tear stains.

They are safe for all dogs and cats above the age of 6 weeks.

Since you can use them directly from the box you don't have to worry about any hassle. After usage, you do not need to rinse either.

The wipes' formulation includes Aloe Vera and chamomile, which are soothing.

---
3. Tear Stain Soft Chews Remover For Shih Tzu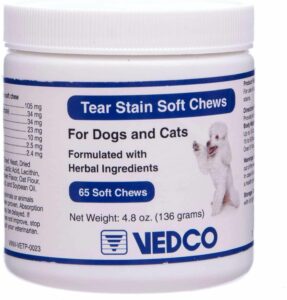 If your dog does not fancy being attacked with wipes twice a day, these chews might help. They are soft chews that work to remove tear stains and irritation. A few properties are as follows:
The chews contain herbal ingredients. Their aim is to reduce tear stains and the particles that trigger them.

They have antibiotic properties but they do not cause drowsiness or any of the harmful side effects.

They are said to be tasty, which means you don't have to deal with a fussy doggo.

The chews deter bacteria and yeast infections.

They also work to minimize tears so that stains in the future are not such a problem.

---
4. Arava Pet Eye Wipes Remover For Shih Tzu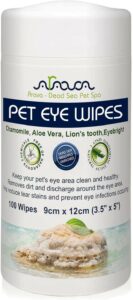 Here's another pack of pet eye wipes that is gentle and soft. It is suitable for dogs, cats, puppies, and kittens, and comes with the features listed below:
The wipes are made of natural ingredients. They are aromatherapy medicated as well.

They can remove the dirt around the eyes and minimize staining. They are also effective against mucus and discharge.

The wipes are very gentle and can be used even on sensitive eyes and skin. 

They reduce inflammation and irritation caused due to excess accumulation of tears and eye infections.

They are pre-soaked wipes that you can directly use out of the pack.

---
5. PUPMATE Tear Stain Remover Wipes for Dogs and Cats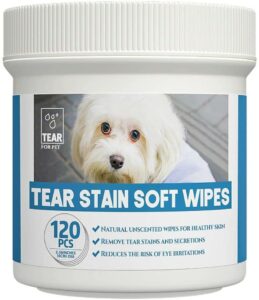 PUPMATE wipes are extra soft and extra moist, perfect for dogs with heavy tear stains. They work well and come without side effects. Read on for more details:
It works effectively to remove existing tear stains.

It also soothes eyes and alleviates irritation.

The wipes are very gentle and do not aggravate the discomfort.

They can also remove debris and dried discharge.

The wipes are pH balanced.

They are natural and unscented.

---
Conclusion
Little steps in the right direction will help your Shih Tzu lead a happy, tear-free life. A healthy diet and the right tear stain removers can further this cause. We hope our article made your search for the best product easier. Go on then, buy your favorite now!