Accessories
Best Brush For long Hair And Short Hair Chihuahua – Take Good Care Of Your Chihuahua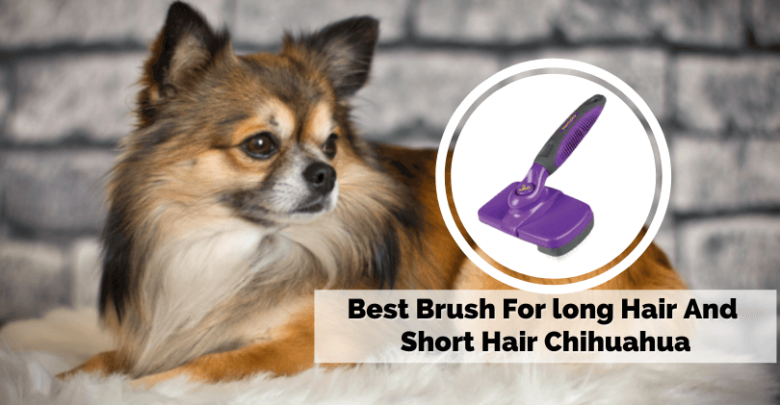 Chihuahuas are little bundles of joy, aren't they? They are unique animals full of energy and love. And, they deserve just as much love back.
Best Brush For long Hair And Short Hair Chihuahua
The human way of showing affection is to show the best possible care and ensure that our pets get the best of everything. This includes food, shelter, and grooming. Our focus today is on grooming chihuahuas – both long- and short-haired dogs. They have separate care needs but the core is the same. They need a good hair brush. 
Brushing A Chihuahua – Tips From Experts
Before we go ahead and discuss the best brush you can purchase, we would like to walk you through some expert tips.
If you have a short-haired chihuahua, you have to be very gentle while brushing their hair. Don't apply too much force and always brush in the direction of the hair growth.

If you have a long-haired chihuahua, you must be very careful because matting is a common problem with long hair. 

Use a good quality brush made specifically for the type of hair your chihuahua has. This will make the process easier.

Start early – when your chihuahua is still a puppy and make it a habit. This way, they will expect to be brushed and won't resist.

Brush thoroughly so that you get out all the debris and mats. This will also stimulate natural oils and keep the fur healthy.
 Editor's Choice
Now, we shall help you find the best available brushes for your furry best friend. All the recommendations have come straight from our experts.
1. HERTZKO Self-Cleaning Slicker Brush
Let's start with an amazing product for long hair chihuahuas. This is a self-cleaning slicker brush that meets all requirements of a long coat. It has the following features:
It has been made to remove mats and debris from the fur along with loose hair, tangles, and dirt.

This is a shedding brush  that works on both cats and dogs with long hair.

The bristles are flexible as they are made with bent wires. They penetrate into the coat without hurting the skin and enable the grooming of the undercoat as well.

It is very easy to clean after brushing. All you have to do is to press a button!

The grip of the handle is anti-slip and comfortable, enabling you to hold it firmly

without the risk of dropping it. You will also not feel any strain while using the brush.

The manufacturers offer 100% satisfaction guarantee.

---
2. Coastal Pet Safari – Plastic Pin And Bristle Combo Brush
The Coast Pet Safari is a 2-sided brush that ensures complete grooming without the need for additional tools. It is suitable for short hair chihuahuas for the following reasons:
One side of the brush has plastic pins while the other side has bristles.

It has been made to focus on removing debris and loose hair from the body.

The bristle brush is responsible for the stimulation and secretion of oils to improve the health of the coat and make it shiny. 

This is a versatile brush that's suitable for daily usage.

The handle is wooden and easy to grip. Its ergonomic design provides comfort and convenience.

---
3. KONG ZoomGroom Grooming Toy
According to us, every short hair chihuahua must have a KONG ZoomGroom toy. It is fun, interesting, and extremely easy to use, making it the perfect grooming companion. Below are a few more details:
It has a 2-in-1 function wherein it massages the coat while brushing.

You can use it while giving your fur buddy a bath to efficiently remove dead skin cells, debris, dust, loose hair, etc.

It stimulates the oil glands to produce more oil and make the coat naturally shiny.

It is gentle on the skin and some dogs totally love getting a massage with the KONG toy.

It is a small grooming toy that's very easy to hold and use.

---
4. Four Paws Magic Coat Professional Services Mat Removing Rake Comb
The Four Paws comb is for all the tough mats out there that give their owners a headache. It is a rake comb specifically designed to remove mats and tangles. Read on for additional information:
The comb has a V-shaped design that enables you to reach all parts of the fur and demat every mat that it touches.

It has stainless steel pins that are durable and capable of removing tough mats while being easy on the skin.

Its design is such that it does not pull the hair while dematting. This is because it has 2 rows of teeth.

You can hold this brush comfortable thanks to its ergonomic design and use it without straining your hand.

This brush is best for long coat chihuahuas but can also work well for short hair.

---
5. Thunderpaws Best Professional De-shedding Tool
Just as the name suggests, this brush for long hair and short hair dogs packs a punch. It is made of rubber and metal, and is very durable. Its hairbrush is definitely worth consideration for your chihuahua due to the following reasons:
It is a popular choice among professional groomers and vets because of its durability.

It has a 4-inch comb made of stainless steel. It is tough and gentle on the skin at the same time.

It is known to reduce shedding up to 95%.

Its non-slip rubber handles make it very easy to use. 

The comb also has an easy release button for quick cleaning.

---
Conclusion
These are some of the best available options for long hair and short hair chihuahuas. We urge you to compare them to find the right one for your pet. If you are still unsure about the perfect brush and would like further assistance, please feel free to reach out to us.