Accessories
Best Shampoo For Double Coated Dogs – Top Shampoos To Protect Your Dog's Fur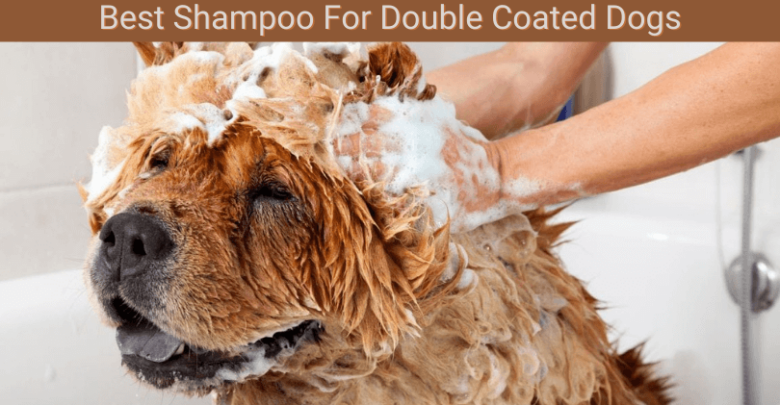 Dogs – our buddies and our loyal supporters. They have evolved to be much more than pets and are very fairly considered family members. Just like we would care & pamper our siblings or children, we dote on our little buddies, giving them the best of everything. (And honestly, we think that's the only way to treat a pet.)
Best Shampoo For Double Coated Dogs
Dogs have their own grooming regime, which involves shampooing and bathing. While you can buy a generic shampoo for them, we advise you to dig a little deeper and get the right one according to their needs and preferences. This is important because different dogs have different coats  – short, long, double, combination, wooly, etc. This article is for all the double-coated doggos out there.
About The Double Coat
As the name suggests, double coated dogs have 2 coats. The top one is referred to as the guard coat while the below one is the undercoat. The double coat protects dogs from extreme cold. It sheds quite a bit in the winter and tends to trap odor and oils. It requires regular maintenance and grooming. A shampoo dedicated to the double coat will have properties that avoid oil and odor build-up, and strengthen the fur. 
Double coated dog breeds include Saint Bernard, German Shepherd, Corgi, Husky, Labrador, Golden Retriever, and Samoyed.
Editor's Choice
A deep conditioning and de-shedding shampoo will do wonders for your dog. You can also use a conditioner to top it off but we must advise you to be frugal with the conditioner and was it off thoroughly. Now, it's time to take a look at what the market has in store for our double-coated dogs.
1. BIO-Groom Extra Body Shampoo for Double-Coated Breeds
The BIO-Groom shampoo has been formulated only for double-coated breeds, which means that its function is specific and it produces the desired results. We have shared more information below:
It is an extra body shampoo, which contributes to fullness and volume of the coat.

It produces rich lather but it is also easy to wash off. It does not leave any residue behind. 

It is protein-enriched and free from chemicals that usually damage hair. All the cosmetic ingredients included are safe and do not lead to dryness.

You can dilute the shampoo with 5 parts water for good lather and conditioning.

If you also have cats, your dog can share their shampoo with them. It is safe for cats as well.

---
2. TropiClean PerfectFur Thick Double Coat Shampoo for Dogs
Say goodbye to shedding troubles with the TropiClean PerfectFur Shampoo. This product is suitable for thick double coats and comes with the following features:
It is a natural, deep cleaning shampoo that penetrates the coat and removes the dirt & debris trapped in it.

It promotes natural de-shedding by loosening the dead hair.

It breaks water surface tension, enabling the removal of excess water immediately without leaving residue.

The shampoo only has naturally occurring ingredients and mineral-based raw materials.

It is safe for dogs 12 weeks old and up.

---
3. FoamCare Pet Shampoo for Thick Coats by Vetericyn
Does your fur buddy have sensitive skin? If you are nodding, this shampoo is what you are looking for. Formulated specifically to help dogs with skin issues, this one is a true wonder. Let's find out more:
It is a hypoallergenic shampoo containing aloe.

It promotes healthy coat and skin.

The instant foam formulation has cleaning, moisturizing, and conditioning properties.

It is also anti-inflammatory and boosts immunity against dermatological problems. However, we recommend that you speak to the vet before purchasing this shampoo if your dog has allergies and other skin problems.

It does not strip the coat of natural oils.

It is pH optimized and consists of multiple plant-based ingredients.

---
4. The Coat Handler Undercoat Control Dog Shampoo
Say hello to a highly reliable and trustable shampoo recommended by none other than Amazon itself! This shampoo is great for undercoat removal and reducing shedding. Its properties are as follows:
It is gentle on the skin and adds moisture.

It reduces shedding dramatically when used regularly.

The shampoo also leaves behind a fresh and clean odor.

It has been formulated to clean, cleanse, purify, and condition the coat.

It contains many natural ingredients including Omega 3 & 6 fatty acids and vitamin E.

It is a concentrated formula and needs to be diluted (32 parts water to 1 part shampoo) before use.

---
5. Chris Christensen Pro-Line Fair Advantage 2-in-1 Shampoo
It's a shampoo, it's a conditioner – it's both! This premium volumizing shampoo also has conditioning properties, enabling you to just buy one product instead of 2. Let's find out more:
It lends volume to the coat while working inside the hair cuticles to increase their size.

It protects the natural oils and maintains healthy skin.

The shampoo moisturizes the fur and removes static that often leads to tangling. It also removes dryness and frizziness.

It is safe to use on sensitive skin but it is always ideal to take the opinion of the vet before going for it.

While you can apply the shampoo directly, we advise diluting it with warm water in a ratio of 1:10 (shampoo:water).

---
Conclusion
We commend your efforts to give your dogs the best of everything and we are happy to help you with the same. We hope our article gave you a clear idea about the right shampoo for your best friend. If you have any doubts or concerns, please feel free to reach out to us.