Food
Best Dog Food For High Triglycerides – High fiber low fat diet for dogs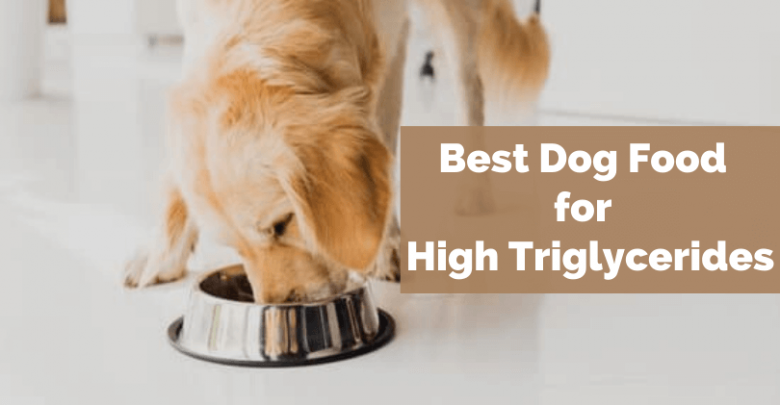 [vc_row][vc_column][vc_column_text]
The best diet is one of the many things our furry friends deserve. 
These unconditionally-loving balls of fur give us so much happiness and love that they change us into better people! In return, they only ask that you take care of them. One of the most important aspects of taking care of pets is ensuring that they get a balanced diet, specific to their health. And just as in the case of humans, you will find different pets with different requirements. 
Our focus in this article is on dogs with high triglycerides and the best dog food for this condition.
A brief about high triglycerides in dogs
Triglycerides are nothing but fat molecules found in the body. While their presence is completely normal, consistently high levels are a matter of concern. 
After dogs eat their meals, the level spikes for a short period of time. In 3 to 10 hours, they come back into the normal range. However, if the levels stay up, it means that there is an underlying health problem that needs to be addressed.
Reasons behind high levels of triglycerides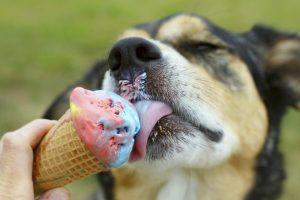 Common reasons include obesity and a lethargic lifestyle. Hyperthyroidism and liver problems also lead to this concern. Moreover, it has often been noticed that dogs with higher levels of corticosteroids also have high levels of triglycerides. So, if your dog is on medication for Cushing's disease, you should make it a point to test for this as well. 
In a few cases, this condition is genetic.
The effects when left untreated
You may not see a problem immediately, but if you ignore it, it will escalate very quickly. Dogs start suffering from pancreatitis, which leads to heartbeat irregularities, problematic breathing, diarrhea, vomiting, and appetite. To make matters even worse, dogs suffer from intense pain. 
Can diet changes help alleviate high triglycerides?
Yes. Switching to a high fiber and low-fat diet often works to balance the levels of fat molecules in the body. The diet should have less than 10% fat, ideally. Commercial dog food companies have specific blends that satisfy these requirements without compromising on the vitamins and minerals. 
Please note that this change in diet can be quite difficult for dogs because low animal fat also means less tasty. This is important, though, and you must make efforts to ensure that your dog sticks to the diet. In most cases, this switch is permanent. 
In case the levels stay up despite a change in diet, you may have to look at further, more intensive steps (medication, etc.) to help your dog. 
Best dog food for high triglycerides
Now that we have established that dietary changes can help dogs let's take a look at the most reliable options available on the market today.
1. The Honest Kitchen Dehydrated Food Mix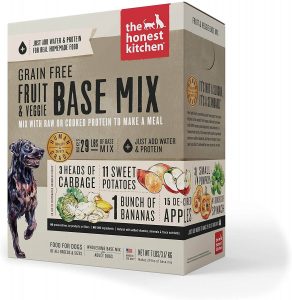 There's no better way to start a list of the best products than with an Amazon's Choice option. The Honest Kitchen Dehydrated Food Mix is made specifically for adult and senior dogs who require a low-fat diet. Here are a few things you should know about it:
This is a completely natural mix that contains absolutely no preservatives or artificial additives. It also does not have any by-products.

It is grain-free and has fruit & veggie base.

Please note that you cannot give your dog this food directly. You must add a protein and some water, mix it, and then feed your best friend. You can use raw or cooked protein. 

It has passed FDA standards and is recognized as human-grade. This means it is of the highest quality.

It has 8% fat and 8% fiber content. 

The food is suitable for all dog breeds regardless of size. 

[/vc_column_text][/vc_column][/vc_row][vc_row][vc_column][vc_column_text]
2. Canidae Pure Weight Management Dry Dog Food for high triglycerides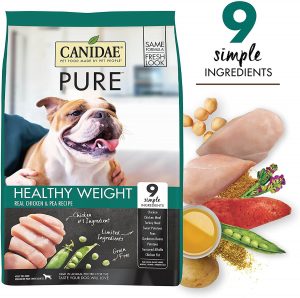 Made with just 9 ingredients with chicken being the number 1 ingredient, Canidae Pure dog food is perfect for weight management. It is only made with whole foods to ensure easy digestion even for dogs with sensitive stomachs. What else? Keep reading to find out:
The main ingredients are chicken, chicken meal, turkey meal, sweet potatoes, peas, Garbanzo peas, potatoes, sun-cured alfalfa, and chicken fat.

It is completely grain-free. It also does not contain artificial flavors or preservatives. The food is devoid of corn and soy as well.

It consists of the necessary probiotics and antioxidants. Together, they ensure easy digestion, a healthy coat, and better immunity.

The brand has formulations for all ages and breeds. All you have to do is to find the right bag and purchase it!

[/vc_column_text][/vc_column][/vc_row][vc_row][vc_column][vc_column_text]
3. Wellness Core Natural Dog Food – Dry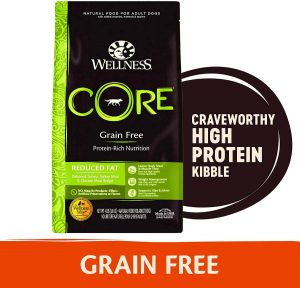 This is another spectacular brand that we love. Wellness Core offers high-protein kibble that is healthy and delicious at the same time. It is completely natural and grain-free. Below are the reasons why we think you should purchase it:
It is a low-fat recipe (25% less than the original formulation) made using turkey meal and chicken meal along with deboned turkey.

It is also rich in fiber.

It consists of omega-3 and omega-6 fatty acids.

The formulation does not have any meat by-products, artificial flavors, fillers, or preservatives.

Regular diet leads to leaner body mass and better muscle tone.

The food is available for different life stages and breeds. 

[/vc_column_text][/vc_column][/vc_row][vc_row][vc_column][vc_column_text]
4. Purina Pro Plan – Weight Management Dog Food for high triglycerides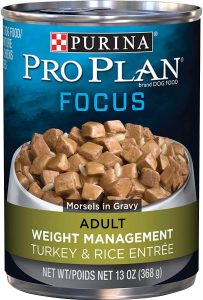 Purina has decided not to stay behind in the race! Its Weight Control recipe is excellent for dogs who have high triglycerides. Here's what the dog food promises:
It is made with real turkey and many other natural ingredients.

It is wet dog food.

It has 23 essential vitamins and minerals.

The formulation works towards helping dogs lose fat only. They do not lose muscle.

Its fat content is 25% less than the original Purina formulation and ranges between 2 and 4.5%. Crude fiber, on the other hand, is around 1.5%.

If your dog is overweight and leads an inactive lifestyle, this blend will help him/her get over health problems.

[/vc_column_text][/vc_column][/vc_row][vc_row][vc_column][vc_column_text]
5. Merrick Healthy Weight – Dry Dog Food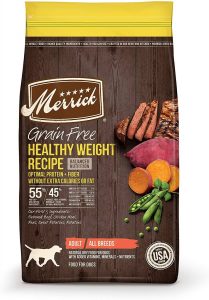 With Merrick, your dog will get balanced nutrition through the goodness of optimal protein and fiber. The grain-free recipe promises high energy levels and better muscle mass. Let's take a closer look:
It has 55% protein and healthy fat. The remaining 45% includes fiber, vitamins, produce, minerals, and more healthy ingredients. The first 5 ingredients are deboned meat, chicken meal, peas, sweet potatoes, and potatoes in that order.

It is also enriched with antioxidants.

The recipe has been put together for adult dogs of all breeds.

It does not contain soy, wheat, gluten, or corn.

It specifically focuses on maintaining healthy joints and hips, along with ensuring healthy weight management.

All ingredients are sourced from the USA only.

[/vc_column_text][vc_column_text]
People also ask
If you have any more questions about this topic, kindly go through this section.
1) What do you feed a dog with high triglycerides?
A high-fiber diet is usually recommended. It should also be low on fat.
2) How can I lower my dog's triglycerides?
Give your dog omega-3 fatty acid supplements. 
3) What are the best foods to lower triglycerides?
Foods rich in omega-3 fatty acid such as fatty fish. 
4) Which foods have most high triglycerides?
Potatoes, rice, cereal, noodles, pasta, etc. have high triglycerides. 
5) Is cheese bad for dogs?
Cheese in moderate amounts is not harmful. It, in fact, makes a great snack. However, it is best to check with the vet, especially if your dog has high triglycerides.
6) Are eggs good for dogs?
Yes, eggs are healthy.
7) Can low vitamin D cause high triglycerides?
Yes, they are supposed to be linked.
8) Is rice good for dogs?
Yes, cooked rice is safe for dogs. You can serve it with boiled chicken.[/vc_column_text][/vc_column][/vc_row][vc_row][vc_column][vc_column_text]Dogs rely on us and trust us blindly. They are sure that whatever we feed them is the best. It is up to us to keep that trust up by taking good care of them, loving them, and giving them the perfect diet. If you have any concerns regarding your dog's health, we urge you to visit the vet immediately. Seemingly small issues turn huge and can cause multiple problems in the long run. No pet deserves that. Also, some conditions may not have obvious symptoms unless they become severe. Regular checkups are, thus, a must.
Please feel free to write to us if you have any more questions. We hope your doggy recovers soon and leads a healthy, happy life.[/vc_column_text][/vc_column][/vc_row]