Accessories
Best Collar For Double Coated Dogs – Top 5 Comfortable Collars For Your Pet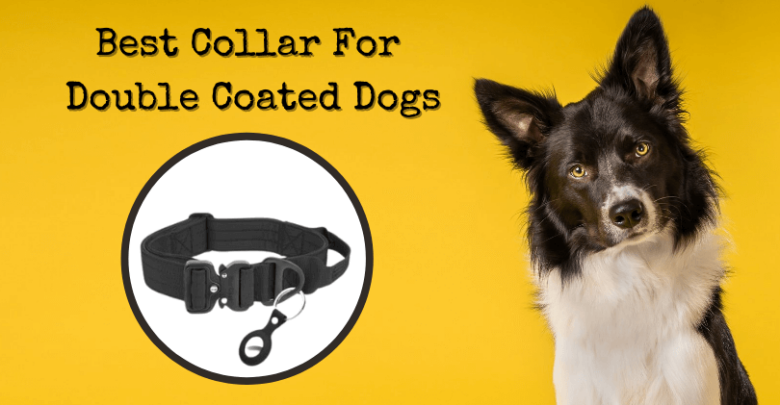 What's the first thing you get for your pet after adoption? Of course, food. But what else? A collar! Collars are like tags and clothing at the same time. They create a sense of ownership for you and a safe zone for them. They are handy in training and recognizing pets outdoors, especially during puppy stages. 
Best Collar For Double Coated Dogs
Within a few weeks collars become a part of dogs' identity. Dogs wear them 24/7. Now imagine having to wear a piece of clothing all day, all night – removing it only for baths. How comfortable must it be? VERY. The same holds true for dog collars. Bad quality collars tend to hurt the skin and lead to allergies. Itching, redness, etc. are common symptoms of the same. Sadly, your dog won't be able to communicate this to you. That is why it is crucial that you be mindful of the type of collar you are purchasing for your fur buddy.
Choosing A Collar For Double Coated Dogs
The type of coat your dog has plays a major role in selecting the right one. Double coated dogs often have long fur (think Samoyed) and need a lot of attention. You can choose a rolled or flat collar for your dog depending on the comfort level and fur type. For example, dogs with wiry or curly fur would be happier in a rolled collar. The others will prefer a flat one.
Editor's Choice
After detailed research and learning, we have found that the following products are good choices for your double coated dogs. Please read on.
1. Waterproof Dog Collar with Heavy Duty Center Ring
This is a custom-fit collar from the Regal Dog Products Store with multiple attractive features. It is also available in various colors and sizes to fit your dog perfectly. Below are more details:
The collar has a vinyl-coated webbing. It is also water-resistant and easy to clean.

It is a heavy-duty collar with a nickel-plated double buckle. It is also resistant to rust. In simple words, it is nearly indestructible.

It has a D-ring that attaches harnesses or leashes with ease.

Since the webbing is vinyl-coated, it remains flexible even during winter.

It is resistant to odor.

Its double buckle ensures secure fastening with no chance of escape.

---
2. Bond Pet Products Durable Dog Collar
Simple and easy to use, the Bond Pet collar is made out of rubber and is quite elastic. It is available in multiple sizes from XS to XL. There are many color options as well. Below are reasons why we like this collar:
The collar is durable and strong, with the ability to withstand various weather conditions.

The rubber material is elastic and soft. The buckle is chrome-plated metal alloy with rust resistance.

Its soft texture ensures comfort and does not entangle fur. There are no rivets or stitches on the entire collar.

It is waterproof and easy to maintain. In fact, the cleaning process is a matter of minutes!

The collar comes with a lifetime warranty against manufacturing defects.

---
3. Hau Gaai Tactical Dog Collar
If you are looking for a strong training collar, your search ends now. The Hau Gai Dog Collar is a military training collar that you can adjust and customize. Find out more below:
It is made of 2 layers of nylon. It is extremely strong thanks to its triple stitching. This means that even if your dog chews through it, it won't be damaged.

 It is a tactical collar that has a quick release buckle. It also has a slider to adjust the size quickly and to take it off easily when required.

It also has an easy grip handle that's needed for tactical training.

The collar is padded so that it is comfortable and does not irritate the skin or fur. It is also very breathable.

It is a good choice for Labradors, Golden Retrievers, Boxers, Husky, Pit Bulls, etc.

---
4. RUFFWEAR – Flat Out Dog Collar
Simple and stylish, this is a cute collar for double coated dogs. It is suitable for daily use and walking purposes. Let's explore its features now:
The collar has been designed to last long and not wash out in extreme weather conditions.

It has an aluminum V-ring that builds a secure and safe connection.

It ensures easy clipping of the leash and has a separate tag attachment as well.

The collar comes with a silicone tag silencer that is placed between tags to avoid noise.

It has a side-release buckle that makes putting the collar on and removing it a piece of cake.

The collar is sturdy, lightweight, and comfortable.

---
5. Regal Dog Products – Dog Collar and Leash
This one's a combo of collar and leash. It's a good idea to purchase them together so that they match. The features of this combo are as follows:
The collar is handmade and comes in various sizes.

It is water resistant and will never absorb dirt or moisture.

It comes with a safety ring in the center that releases pressure when stuck or caught somewhere.

It has a vinyl coating that keeps it flexible and comfortable even in cold conditions.

The manufacturers say that the collar is pretty much indestructible and maintenance-free.

It also does not absorb or capture odor.

---
Conclusion
Dogs deserve the best – there's no doubt about that. Let's start with the collar and ensure that they have the most comfortable and durable one out there. Those with double coated dogs will appreciate any of the aforementioned collars. We advise you to compare and choose the one you feel will do complete justice to your dog's needs while safeguarding their fur. All the best!