Accessories
Best portable dog fence for RV – Buy the best fence for your buddy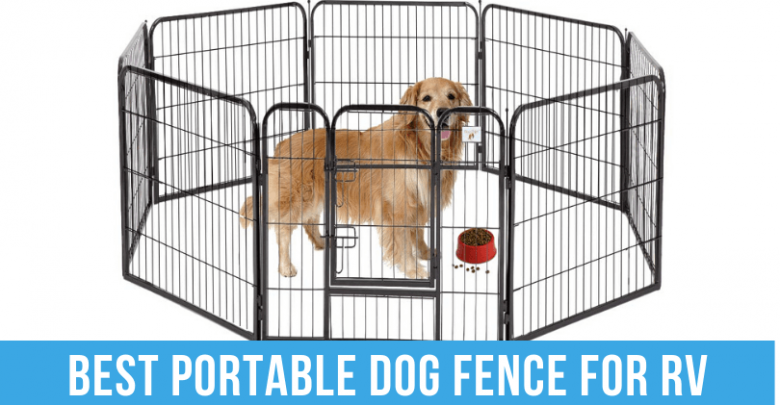 [vc_row][vc_column][vc_column_text]
Do you camp outside regularly? Do you go on tours and trips with your furry best friend in the RV? If the answer is yes, you are amazing! 
Sometimes, you need a fence or a dedicated play area for your buddy so that he doesn't wander off and is also safe. This comes handy not just on camping sites but also in parks, backyards, and indoors. Now, carrying your dog's pen around is definitely not an option because it is a lot of hassle. Plus, it may not even fit! 
Portable Dog Fence for RV
What you need, instead is a foldable and portable dog fence that you can stack in your RV and be on your way. This is crucial while shopping because many fences are too high for the RV. If you buy one of those, you may end up with a lot of trouble even after buying a good one. 
Don't worry about it, though. We are here to help. Before any further ado now, let's get started with our list of the best portable dog fences for RV today.
1. TOOCA Dog Fence – Foldable with Door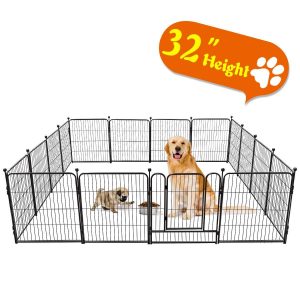 The TOOCA Dog Pen is ideal for indoor and outdoor usage. It is also easy to install in the given areas. It has 16 panels, and when assembled, you will see that its height is 32 inches. That's quite good even for travel. Here's a closer look at the features:
For indoor usage, you can take advantage of its rubber gasket that does not allow movement even when the dog jumps. For outdoor usage, you can use the poles. Just insert them into the mud and fix them in place.

Upon assembly, you will note that the pen creates an area of 66.5 square feet. This is enough for dogs to move and play happily. It is, in fact, heaven for small dogs!

It is high enough to prevent most cases of jumping, but if you have large dogs, you may not want to rely on this.

To avoid an escape, the door also comes with an automatic lock.

The door is made with iron tubing, which prevents collapse in case your dog gets particularly naughty.

The poles are very easy to install. You can arrange them in different ways based on the requirement and the available space.

[/vc_column_text][/vc_column][/vc_row][vc_row][vc_column][vc_column_text]
2. VIAGDO Dog Pen/Fence for RV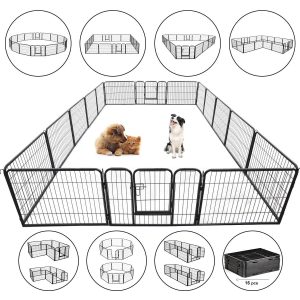 VIAGDO is a pioneer in dog fences. It has heavy-duty dog fences for RV, which are very easy to assemble and use. They also have options to choose from depending on your dog and your needs. Below are a few points that may interest you:
For small dogs, you can choose the 24-inch fence with 16 panels. This one will give more space, and they won't be able to jump out either. If you have a large dog that doesn't too much space or if you want to use it rarely, you can get the 40-inch fence with 8 panels. However, this may be too high for the RV. 

The entire dog fence is made out of a sturdy and heavy-duty rust-resistant metal tube so that it lasts for a long time.

It has solid latches as well that ensure that it stays in place throughout. Also, dogs cannot escape from this marvelous fence! 

All the edges are rounded so that pets are safe and do not injure themselves.

The assembly of this dog fence is quite simple. It comes with detailed instructions too.

Depending on how large you want the fence to be, you can remove a few panels and make it smaller. You can also arrange it in different ways.

[/vc_column_text][/vc_column][/vc_row][vc_row][vc_column][vc_column_text]
3. DazzPet Dog Fence for RV, Play Yard, Outdoors, and Indoors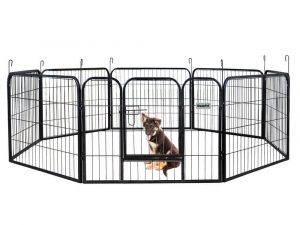 This lovely enclosure from DazzPet is 24 inches high and has 8 panels. You can assemble them easily and have your pet use his/her all new dog fence in no time. We have mentioned a few reasons why this is a great product:
It is completely resistant to rust because it has a powder-coated finish. The coating also makes it more durable. 

It has metal stakes that make assembly very easy.

While this particular set only has 8 panels, you can buy a similar set and arrange all the panels together. This works well for larger spaces.

You can also arrange the fence into a rectangle or octagon.

The fence is ideal for camping, running, restricting movement when needed, and training.

[/vc_column_text][/vc_column][/vc_row][vc_row][vc_column][vc_column_text]
4. PetPremium Dog Fence – Portable and Suitable for RV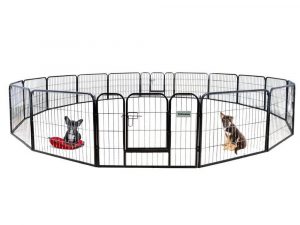 It is large, it is reliable, and it is one of the best dog fences for RV out there! The PetPremium dog fence is indeed a great buy because you can assemble it quickly in different shapes. It is also suitable for indoor and outdoor use or carrying it in your RV for camping.
It has a powdered finish to ensure longevity.

It works best for small and medium-sized dogs. Big dogs will escape it easily. So, we don't recommend it for them.

Many users but it for camping and create an awesome, safe area for their pets.

When fully assembled, it covers 66.52 square feet, which is quite luxurious. If you have a puppy that doesn't need such a large enclosure, you can assemble it without a couple of panels and add them later as the puppy grows.

The manufacturer gives you 2 sets of panels – 8 panels each. You can use them separately or combined.

[/vc_column_text][/vc_column][/vc_row][vc_row][vc_column][vc_column_text]
5. Yaheetech Foldable Metal Dog Fence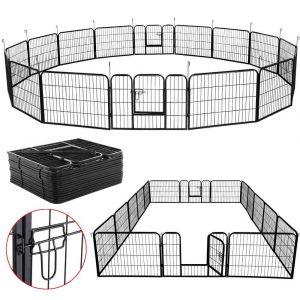 Yaheetech gives buyers so many options that, regardless of your choices, you will have one readily available for you! To make the buying process easy for you, we have enlisted the best features of these dog fences. Please keep reading:
There are 5 sets to choose from. They are 16 panels of 24 inches, 16 panels of 32 inches, 16 panels of 40 inches, 32 panels of 24 inches, and 8 panels of 40 inches. 32 and 40-inch height is significant, and while it works outdoors, it may not be ideal for travel. Make sure you check whether your RV can fit it before buying it. If you travel frequently, please make sure you buy the shorter options. 

The panels are quite sturdy thanks to their iron construction.

The edges are rounded and safe for all pets.

You can fold the fence and store it with ease. It is quite portable as well.

There are hinged doors as well, along with a door latch that's dog-proof but easy to operate for humans.

[/vc_column_text][/vc_column][/vc_row][vc_row][vc_column][vc_column_text]All these options have definitely excited us. Do you feel the same? We bet you do! Go on then, pick your favorite and let us know why you bought it. We also welcome pictures of happy dogs in their enclosures. 
If you have any questions or doubts, though, you can reach out to us, and we will help you out.[/vc_column_text][/vc_column][/vc_row]