Guide
Pros And Cons Of Belly Bands For Dogs – Are They Safe For Dogs?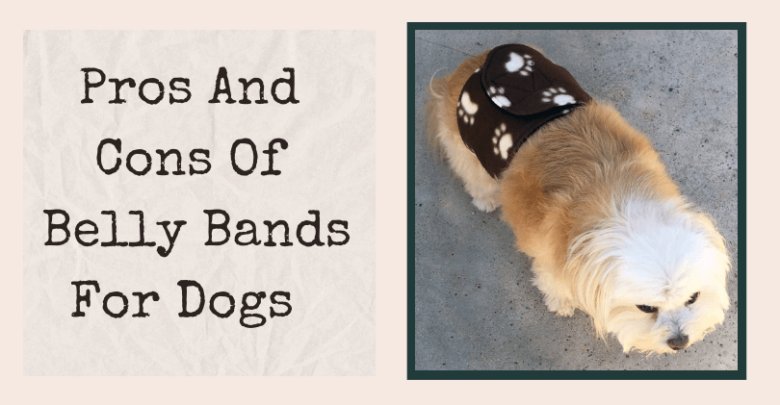 Dogs are like babies in more ways than one. They are cute, adorable, innocent, and extremely loving. They need an equal amount of care and affection as well. In return, they gave us their whole heart. Their unconditional love for us is inspiring and unmatchable. 
Pros And Cons Of Belly Bands For Dogs
Now, just like babies, some dogs need some extra attention and care. Even the most well-trained dogs sometimes have accidents and pee in the wrong places. Fear and marking are the two most common reasons behind this. As they age, incontinence may also set in, leading to frequent accidents. Thankfully, there's a new product that can help you deal with this problem.
What Are Belly Bands For Dogs?
The answer is in the question itself! Belly bands are pee-safe bands that go around the belly, covering the private part of male dogs. They are super absorbent and avoid accidents even when dogs pee with one leg up. Good products are secure and comfortable, and dogs can get used to them within a few days. Once they do, they will not resist them. 
Belly bands are slightly different from dog diapers in that they can only control the peeing problem. If you need to control pooping accidents as well, we recommend diapers instead.
Pros And Cons Of Belly Bands For Dogs
Before taking a decision in the favor of or against belly bands, we request you to go through their pros and cons. We have put them together here for you.
Pros And Cons Of Belly Bands For Dogs – The Final Verdict
Belly bands are an excellent solution to peeing accidents, according to us. They eliminate the stress and additional cleaning problems that come with accidents. They are safe and easy to wear as well. Those who have senior dogs or dogs who need additional help must consider purchasing belly bands.
They may be expensive but belly bands can save you a lot of trouble and headache. Go buy them now!