Health
Best Ear Mite Medicine for Dogs – Ease that Itch with Ease!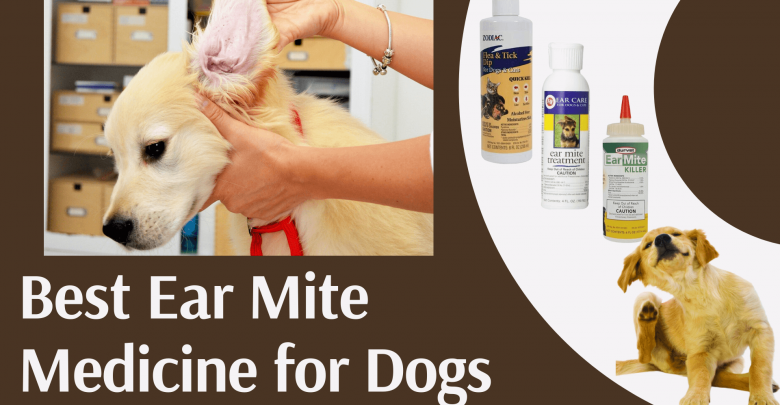 Our pooches are the cutest, aren't they? Their big eyes, their soft ears, and their snoot make us want to boop them all day! However, as much as they look like giant teddy bears, they are prone to a few diseases and infections. This is especially true for their ears and eyes. Because they are quite sensitive, fleas, mites, and ticks keep getting attracted to them, calling their bodies their home.
Best Ear Mite Medicine for Dogs
All these parasites can cause unbearable pain and itching. They also have the potential to inflict deadly diseases on our furry best friends. That is why, as the owners, we must take extra measures to ensure that they stay healthy and happy. Trust us, what you may write off as a small infection can lead to serious, life-threatening diseases. To further help you solve this issue, we are going to speak about the best ear mite medicine for dogs available in the market today. 
1. Zodiac Flea and Tick Dip For Dogs and Cats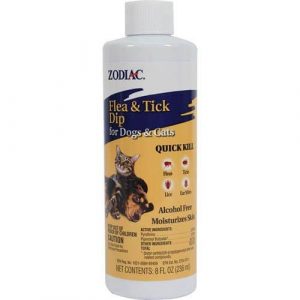 We genuinely think this is the best ear mite medicine at the moment. It works very effectively without aggravating the itching. It is also known to be safe for puppies, kittens, and cats. Let's find out more:
It is a concentrated formula.

It is alcohol-free and non-drying.

It starts working immediately and can remove the infections within a week.

Make sure you clean your dog's ears before you apply this medicine. Also, the ears should be dry.

The bottle has clear usage instructions, which you must follow for safe usage and good results.

You don't need to rinse it once you apply it. Just leave it so that it starts acting immediately.

It smells quite okay, which means that dogs and cats don't get uncomfortable due to the scent.

2. Miracle Care R-7M Ear Mite Treatment

The Miracle Care ear mite medicine is also widely popular because it is very effective and starts showing results very quickly. It is easy to use and safe for dogs and cats. Below are a few highlights:
It is a Pyrethrin-based medicine formulated specifically for ear mites and ticks.

It eases inflammation and itching.

You can either purchase it separately or as a kit with an ear cleaner. The kit will be ideal if you don't already have a cleaner because cleaning ears before applying medication is a must.

The usage instructions are very clear on the bottle. Just use it twice a day for 2-3 days based on the extent of infection. If the infection is severe, it may also take 5-7 days to clear up.

Many users have noted that itching immediately stops, and that's a huge relief.

3. Four Paws Ear Mite Remedy for Cat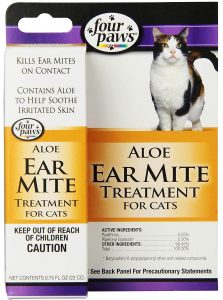 This is a water-based ear mite medicine and does not contain any oil. The medication is to be used as drops and is safe for all dogs and cats. Below are a few things to note about this product:
It is a natural insecticide. 

It has Pyrethrin and aloe vera. These two ingredients work together for immediate calming.

It starts working instantly and relieves the pet of itching and inflammation.

The active ingredients are 0.10% Pyrethrin and 1.05% Piperonyl Butoxide, Technical.

Usage is very simple. Just apply 5 drops in the effected ear and rub the ear gently for a couple of minutes. Let your dog shake the excess off and after a few minutes, wipe any liquid around the ear with a clean cotton swab. Apply the medicine every other day until the disease subsides.

4. Pene Ear Mite Medicine for Dogs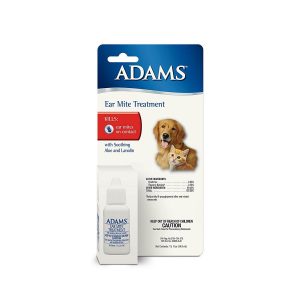 It wouldn't be wrong to call the Sentry ear mite medicine for dogs an excellent solution. It is completely safe and does the job very effectively. Keep reading to find out why you should buy it.
It is potent enough to kill all ear mites on contact. It takes around 4-6 days to clear up the irritation and infection.

It contains aloe and lanolin, which are responsible for providing a soothing effect.

The active ingredients in this medicine are 0.05% Pyrethrin and 0.5% Piperonyl Butoxide, Technical.

Users have said that this medicine does not have any side effects. The only thing to remember is that it may not be safe for nursing, pregnant, and old animals. Contact the vet before you use it to be on the safe side.

You can also use it for cats and rabbits.

5. Durvet Ear Mite Killer for Dog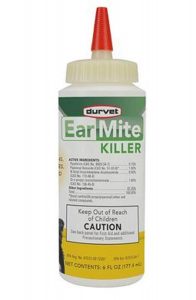 Let's end this list with the most popular product we could find. The Durvet Ear Mite Killer Infection medication works effectively against ear mites, fleas, ticks, mosquitos, gnats, and mange mites. It is also safe for cats and horses. Let's find out more:
It is very easy to apply and kills the pests on contact.

It contains lanolin and aloe. These two ingredients provide relief from irritation and soothe the ears.

Apply sparingly around the infection, once a day. You will see the infection vanish in 7 to 10 days.

Never apply the medicine on wounds, cuts, or irritated skin. You can, however, apply it on bandage if you absolutely have to.

While all these medications work well, it is very important to understand whether your dog really has an ear mite infection. Sometimes, it is nothing but excessive wax that produces a foul smell. We know of many cases that were solved by a good cleaning at the vet. Using even the best ear mite medicine in these cases will not do your furry best friend any good. So, unless you are absolutely sure about the infection, please do not administer any medication. Take him/her to the vet instead, to understand what's wrong. This may take a few extra bucks, but it will relieve your pet of a lot of unnecessary pain and frustration.
Once you are sure it is an ear mite infection, you can pick any of the products above and ditch that itch right away. All the best, then. We hope you make the right choice. If you have any other doubts, please feel free to let us know through comments.