Accessories
Best collar for tie out – Here are the best escape proof harnesses for dogs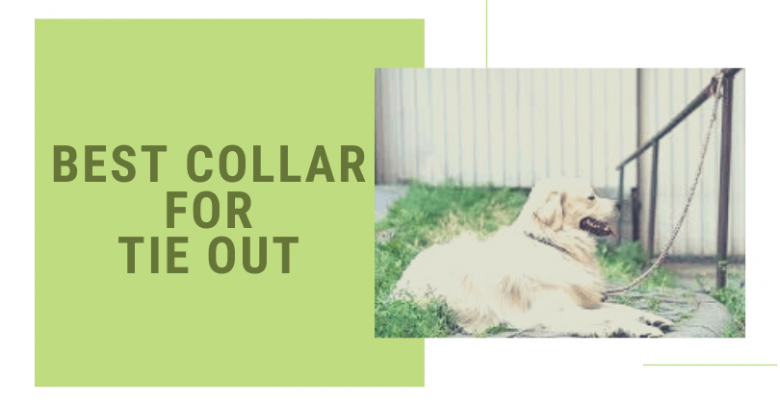 [vc_row][vc_column][vc_column_text]
What do nightmares look like for dog owners? Their dog(s) going missing. 
Nothing is more terrifying and devastating than finding out that your dog has escaped or has been taken. Sadly, both these scenarios are totally possible and common. During one of our walks, when we want to head to a store where dogs aren't allowed, we usually tie them outside. That's okay as long as your dog is wearing an escape-proof harness. Otherwise, it is very easy for dogs to just slip out and run in panic. 
Best collar for tie out
Stop imagining it! We know it is very scary. That's why we have brought you a list of collars for tie out. These collars will ensure that your dog is safely harnessed as you shop or run an errand. All our choices are comfortable, affordable, and reliable. Let's quickly go through what they are:
1. Bolted Heavy Duty Tie Out Dog Collar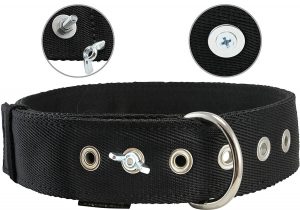 The Bolted Tie Out Dog Collar is easily one of the best in its league. It is a triple-layered collar with more width than usual, perfect for medium to large dogs. It has excellent features that make it a great purchase. A few of them are as follows:
It has an innovative design the eliminates the need for buckles. It has a connector instead. This fastening system is much better and safer.

It is made out of nylon, which is a comfortable material.

The eyelets are enforced with metal for durability, and the D-ring is made out of nickel.

It is a thick collar, but it distributes pressure evenly.

You can wash it in the washing machine.

Make sure you measure your dog's neck accurately before buying the collar. It only fits a circumference of 15 to 19 inches.

[/vc_column_text][/vc_column][/vc_row][vc_row][vc_column][vc_column_text]
2. Rabbitgoo Dog Harness – Escape-proof and No-pull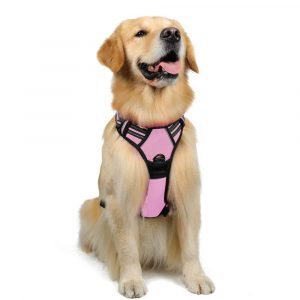 Rabbitgoo, despite the name, is a very popular brand for dog harnesses. It is, in fact, an Amazon's Choice offering that gives dogs exactly what they need – comfort and safety. Please keep reading to scan through the features:
It is available in various sizes. Please measure your dog's neck and chest to purchase the right one.

It is a no-pull harness that has 2 metal leash rings for safety during walking.

It needs to be worn through the head (overhead) but has 2 buckles that make the process easy. It is also this particular feature that makes it escape-proof. 

The harness has 4 adjustable features so that your dog is comfortable.

It is padded and is made with Nylon Oxford. It also has an air mesh that makes it breathable.

[/vc_column_text][/vc_column][/vc_row][vc_row][vc_column][vc_column_text]
3. Digdog Soft Dog Vest – Escape-proof Dog Harness for Tie Out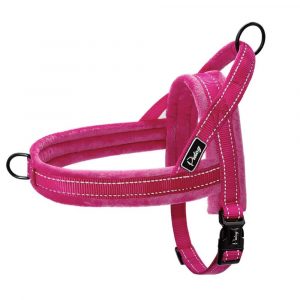 From 12 inches to 32 inches, there are multiple sizes of the Digdog vest for dogs. It is ideal for training, walking, and tie out. Why should you buy this? Because of the reasons we have explained below:
It has a simple design. It is lightweight and soft.

It is a no-pull, escape-proof, and no choking harness with the D-ring in the front.

There's only one buckle to control the entire harness. This makes it very easy to avoid pulling and escaping when you tie the dog outside.

The strap and the buckle are both made of nylon.

The pad of the harness is wider than the strap itself. This contributes to comfort and discourages pulling as well.

The harness is adjustable.

It is available in XXS, XS, S, M, and L sizes. Measure your dog to pick the appropriate size.

[/vc_column_text][/vc_column][/vc_row][vc_row][vc_column][vc_column_text]
4. SENYPETS Escape-proof Dog Harness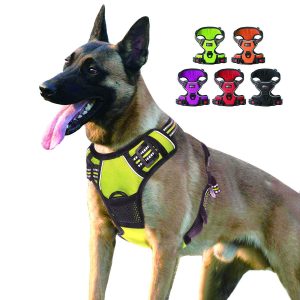 It is adjustable, easy to wear, and soft. It is the SENYPETS harness that many dogs love! We love the fact that it is made with 100% polyester and mesh material. But that's not all that we love. Below are a few more features that make the harness attractive:
The entire harness is breathable and comfortable. Its sides have more comfortable material to avoid poking and chafing.

The stripes are reflective, making it easy to spot at night. 

The harness comes with a strong D-ring for leash attachment.

The buckle is adjustable, enabling you to tighten or loosen the harness based on your dog's convenience.

The clasp is lockable. While wearing and removing the vest, this clasp helps a lot.

During a tie out, you can rest assured that your dog is safe and has not escaped because there's no way he/she can get out of this leash without your help.

[/vc_column_text][/vc_column][/vc_row][vc_row][vc_column][vc_column_text]
5. SCENEREAL Reflective and Adjustable Dog Harness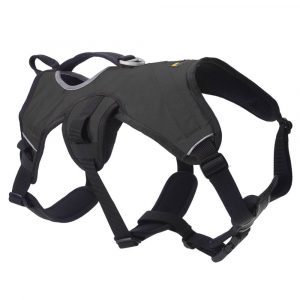 There's no better way to end a list than with an Amazon's Choice product. That's exactly what we are doing here. The SCENEREAL Dog Harness is a very popular harness because it is multi-functional, durable, and comfortable. A few more details are as follows:
It is extremely soft, with extra padding at the chest and belly. This comes handy during training and hiking because the softness avoids friction.

The harness has 2 points of attachment for the leash. One is on the neck, and the other is at the front. Based on the requirement, you can use either of these attachments.

Its paddle handle helps with controlling and grabbing during training without injuring the dog. 

It is adjustable and easy to wear. But it will not come off easily. This is why it is ideal for tie outs as well.

For night safety, the manufacturers have added reflective tapes around the harness. 

The polyester-made harness is non-toxic, breathable, durable, and lightweight. 

The harness also promises better load distribution.

The available sizes are S, M, and L. As always, make sure you measure your dog & compare the sizes before choosing one.

[/vc_column_text][/vc_column][/vc_row][vc_row][vc_column][vc_column_text]You will note that all these collars and harnesses do more than just avoiding an escape. They are very comfortable and sturdy as well, allowing you to use them for various purposes. Also, each of them is available in a variety of colors. So, you can think of aesthetics as well! Go on then, pick your favorite and protect your dog![/vc_column_text][/vc_column][/vc_row]