Food
Best dog food for Panosteitis – Right dog food for large breeds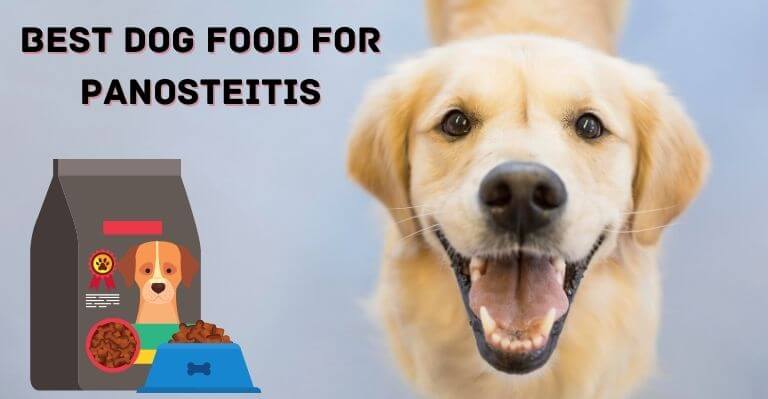 Panosteitis is an inflammatory condition that commonly occurs in large breeds of dogs. Also known as growing pains, this condition occurs in the bones of the legs. It causes so much pain that dogs end up limping. They may also have shifting lameness. It is usually sudden and can be quite traumatizing for dogs.
As dog owners, we are sure you want to give your fur buddy the best quality of life. If they are suffering from Panosteitis, it is important to understand their dietary requirements and make changes to their routine accordingly. Good diet is one of the most crucial parts of taking care of growing pains.
A brief about Panosteitis
Panosteitis usually affects growing dogs. It can happen to any breed of dogs but has been seen more in Rottweilers, Golden Retrievers, Great Danes, German Shepherds, Basset Hounds, Doberman Pinschers, and other large breeds. It is usually connected to overeating of high protein and calcium food but since growing, young dogs need these two nutrients, it is actually contraindicated. 
Thankfully, Panosteitis is a self-limiting disease and it is possible for your dog to outgrow it. The only thing you should keep in mind is to provide a balanced diet with high energy and other vital nutrients.
Best dog food for Panosteitis – Expert's choice
To help you find the right food for your dog, our experts have provided a list of the best foods available at the moment. We have enlisted each of their pros and cons so that you decide which one to go with.
1. Orijen Dry Dog Food (Original)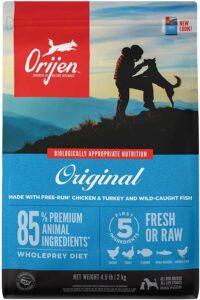 Orijen Dry Dog Food is suitable for all dog breeds. The original flavor consists of multiple raw ingredients and has the following features:
This rich food consists of 85% fresh animal ingredients including chicken, flounder, turkey, mackerel, and whole eggs.

The remaining 15% of the ingredients are fruits and vegetables.

It does not contain grains, potato, gluten, or tapioca.

It is rich in protein, calcium, and other major nutrients.

It is delicious and healthy at the same time.

---
2. Acana Grain-Free Dry Dog Food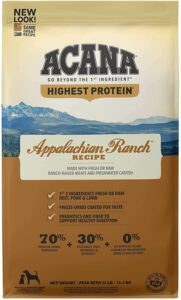 Acana Dog Food is Amazon's Choice and honestly, we prefer it for our dogs too. The food is freeze-dried coated to preserve taste. A few important things to note about this food are:
It consists of 70% premium animal ingredients including freshwater catfish and ranch-raised meats.

30% of the food is vegetables, fruits, nutrients, and botanicals.

The recipe does not have any artificial flavors or preservatives. It also does not have grains, gluten, potato, or tapioca.

This highly nutritious bag of food is suitable for all dog breeds.

Refrigeration is the only method of preservation used. All raw ingredients are frozen to pack their taste and nutrition.

---
3. ZIWI Peak Air-dried Dog Food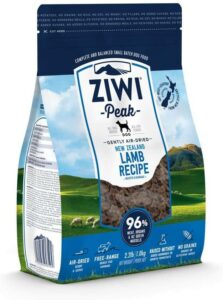 ZIWI dog food is completely natural and it has been gently air-dried to help you scoop and serve right out of the bag. It is considered premium dog food for the following reasons:
It has only a few (Limited Ingredient Premium Dog Food) ingredients and all of them are highly beneficial to dogs.

96% of the food is from prey meats such as lamb, mussels, bones, etc. 

All the ingredients in this dog food are suitable for sensitive dogs. As a whole, it helps with joint health, heart function, brain function, the coat, and skin.

It does not have any added carbohydrates or fillers that are linked to obesity and allergies.

The food is ideal for all dog breeds and ages.

---
4. Pure Vita Dry Dog Food – Chicken and Brown Rice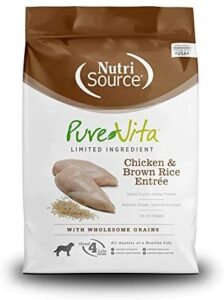 Rice tends to cause inflammation in dogs but brown rice is an excellent supplement. This particular bag of food from Pure Vita contains just that along with high quality chicken. Here is more information:
This is for dogs that need superior nutrition because it has pure and natural ingredients – all of them holistic.

It includes a wide range of fruits such as blueberries & pomegranate and vegetables along with anti-oxidants.

The dog food has a single source of animal protein – chicken.

It is easy to digest and healthy.

It is a complete dog food for all life stages.

---
5. Tuffies Pet Food – NutriSource Pure Vita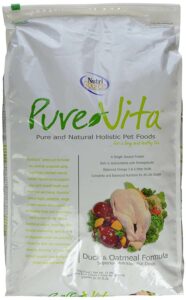 We shall round our list off with another very good product, the Tuffies Pet Food. It is dry dog food that mainly contains duck and oatmeal. Read on for more details:
It only contains holistic and natural ingredients.

It includes vegan flavors, duck, oatmeal, barley, alfalfa, peas, carrots, cherries, apricots, etc.

The dog food has been formulated to boost immunity and health.

It provides balanced nutrition to dogs of all ages as well as sensitive dogs.

It also has omega 3 and 6 fatty acids.

---
Conclusion
All our recommendations above are personal and not backed by vets. We advise you to take the vet's advice on the aforementioned foods especially if your dog is sensitive to foods. While these are directed at overall health and joint strength, we cannot promise results or cure to Panosteitis. What works for a few dogs may not work for others, which is why it is always wise to see professional advice. If you have any questions, please feel free to ask us.