Food
Best dog food for IBD – Safest food for dogs with inflammatory bowel disease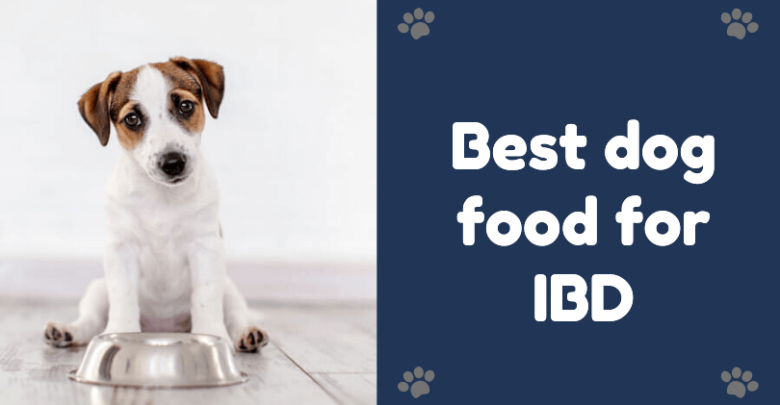 [vc_row][vc_column][vc_column_text]
The word inflammation strikes fear in everyone. It is a severely uncomfortable condition that can lead to dire consequences if not treated early. The situation is the same with dogs. 
IBD or inflammatory bowel disease is a condition that has wreaked havoc in dogs for a long time. It occurs when their stomach lining has more inflammatory cells than usual. But it doesn't stop there. The increase in the number of cells further causes a change in the digestive tract's lining and ends up causing digestion problems. Absorption and passage of food directly take a hit, causing many health concerns.
A brief about inflammatory bowel disease
There are a number of reasons behind IBD, but even veterinarians are not clear on the actual cause. Some don't even consider it a disease. They think it is an over-reaction of the body's defense response. Often, though, allergies, bacteria, and an abnormal immune system are the reasons behind this disease or condition. Genetics also plays a role in some cases.
Symptoms of IBD
Vomiting is the biggest symptom. Dogs with IBD will vomit continuously. Some may have diarrhea accompanied by blood due to the inflammation. Other symptoms include weight loss, loss of appetite, and being less social.
But, we would say that you shouldn't wait for all these symptoms to appear. Chronic vomiting and/or long-term diarrhea are significant signs that something is wrong. Head over to the vet for a diagnosis before it gets worse. Just like humans, dogs do not vomit or have diarrhea without reason. If it is not due to IBD, it may be due to something else. Thus, a check-up is mandatory.
Breeds that are vulnerable to IBD
All dogs can get IBD. However, it has been noted that a few breeds are specifically vulnerable. These include Shar Pei, Basenjis, and German Shepherds. 
Difference between IBD and IBS
Please note that irritable bowel syndrome and inflammatory bowel disease are two different conditions. We have seen many pet owners get confused and think that they are the same. IBS is caused due to the muscle in the lining of the intestine and stomach, whereas IBD is caused due to the lining itself. The symptoms and treatment also vary significantly. 
Managing IBD in dogs
While there are different treatment options for IBD, there isn't a definite cure as such. This is why vets prescribe a diet change. Diet dog food goes a long way in treating the condition and helping dogs feel better. This food is usually easily digestible and is not very hard on the tummy. Choosing the right food, though, is crucial. If the vet prescribes a particular brand, please go ahead with that. If he/she doesn't, there's no need to worry. The market has multiple different options for you. 
Best dog food for IBD
Let's quickly gloss over the best dog food for IBD with excellent reviews that you can consider for your furry friend.
1. Solid Gold – Holistic Adult Dog Food for IBD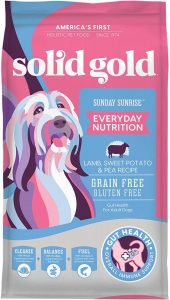 Solid Gold grain-free dog food is rich in iron and is often recommended as the right dog food for IBD. It is ideal for everyday nutrition, and works wonders. Let's find out more:
It is a lamb, sweet potato, and pea recipe. Pasture-raised lamb is the number one ingredient.

The high-density protein, along with functional superfoods, helps promote better immunity and gut health.

It is completely gluten-free and grain-free. It has healthy ingredients that ease digestion and ensure good metabolism. 

If your dog is allergic to the chicken protein, this will be the best choice for him/her.

The food has over 90 million living probiotics per pound.

It also has Omegas that improve overall health, especially of the skin and coat.

The food has 12% fat and 4% fiber content.

[/vc_column_text][/vc_column][/vc_row][vc_row][vc_column][vc_column_text]
2. Nature's Recipe – Dry Dog Food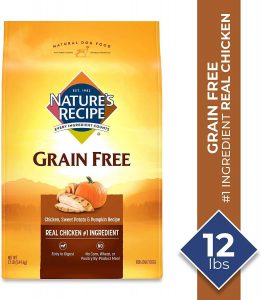 For dogs with IBD, the chicken, sweet potato, and pumpkin recipe from Nature's Recipe is the best. However, if your dog is allergic to chicken, you can pick the lamb or salmon recipe instead. Here's why we recommend it:
The dry dog food has chicken, lamb, or salmon as the first ingredient, depending on which bag you choose.

It is completely natural and is fortified with vitamins, minerals, and other nutrients.

It is grain-free. It also does not have any soy, corn, by-product meal, or artificial colors.

The food promotes strong bones and enhances joint health.

Its 4.5% fiber content ensures easy digestion.

The food has been formulated specifically for adult dogs. If you are looking for a recipe for puppies, we suggest you take the vet's advice.

[/vc_column_text][/vc_column][/vc_row][vc_row][vc_column][vc_column_text]
3. Holistic Select Natural Food – Dry Dog Food for IBD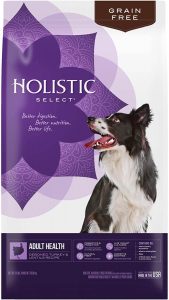 Holistic Select Natural Food lives up to its name of being wholesome and balanced. It is grain-free and contains only premium ingredients. The highlights below will give you a clearer picture of the product:
The recipe includes deboned turkey and lentils.

It is also fortified with live yogurt cultures and probiotics. Digestive enzymes and natural fiber further help break food down and digest it easily.

It does not contain meat by-products, poultry by-products, fillers, wheat, wheat gluten, or artificial preservatives.

The blend also has fruits and vegetables.

The brand has various other flavors, too, in case your dog does not like turkey.

[/vc_column_text][/vc_column][/vc_row][vc_row][vc_column][vc_column_text]
4. Acana Singles Limited Ingredient Food – Dry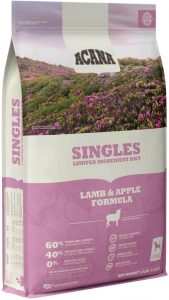 This particular dog food for IBD has limited ingredients, but each of them has a significant role to play. The main ingredients are grass-fed lamb and apple, making it highly nutritious and delicious at the same time. Keep reading for more information:
The blend has 60% animal ingredients of superior quality and 40% fruits, vegetables, and botanicals. 

It does not have potatoes, grains, or gluten.

The food is biologically appropriate for dogs of all ages.

It also has whole-prey ingredients in the same ratios of natural prey. This ensures that your dog gets food that's completely natural for him/her, which is also very easily digestible.

The brand has its own kitchen where the food is produced. They are very strict about their quality standards and have never outsourced the food production to anyone.

[/vc_column_text][/vc_column][/vc_row][vc_row][vc_column][vc_column_text]
5. Earthborn Holistic Dry Dog Food for IBD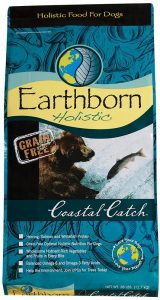 We are going to end this list with a product so popular that it is Amazon's Choice! Say hello to Earthborn Holistic Dry Dog Food. It is formulated without gluten, grain, or potatoes, ensuring complete nutrition. We have enlisted a few more details below:
The recipe has been put together to be rich in protein. It has Herring, Salmon, and Whitefish.

It also contains vegetables and fruits such as spinach, carrot, blueberries, cranberries, and peas.

The grain-free optimal blend is fortified with Omega-3 and Omega-6 fatty acids for immunity boost, better coat, and better overall health.

It has 4% fiber content, which is essential for easy digestion. The fat content is 18%, which can be high if your dog is overweight. In that case, please explore the above options.

The formula is highly palatable, which is another reason why it is so popular.

Please make sure you follow the feeding chart on the packaging to ensure proper feeding.

[/vc_column_text][/vc_column][/vc_row][vc_row][vc_column][vc_column_text]We hope this list helps you find the perfect food for your dog, which improves health and alleviates his health problems. Here, we would also like to bring to your attention that guesswork can be dangerous. If your dog vomits or has blood in his stool, the first reaction should be to consult the doctor. Changing the diet without medical help from the vet can be dangerous. There are many reasons behind these symptoms, and to zero in on them, you need the vet. So, we urge you to take measures only when you are sure that they are safe and approved. 
If you have any doubts or concerns regarding dog food for IBD, please feel free to speak to us. We are always keeping track of comments.  
All the best! We wish your dog a speedy recovery.[/vc_column_text][/vc_column][/vc_row]