Grooming
Best Brush for Havanese – The right tool to groom your furry best friend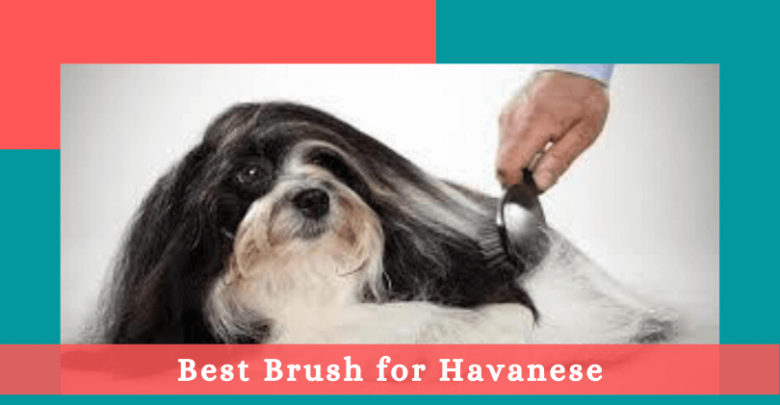 [vc_row][vc_column][vc_column_text]
The Havanese! Such adorable little Velcro dogs! 
Oh yes, you read that right. Havanese are extremely friendly and superlatively loyal. Plus, you will always find them by your side as they refuse to imagine their lives without touching you. This is why they are fondly called Velcro dogs. 
These small dogs from the Bichon family have an incredible coat. And just like every other incredible thing, it needs quite a lot of love and maintenance.  Before we get into the details of the best brush for Havanese, we would like to help you understand the coat's characteristics better. 
A brief about the Havanese coat
When you see a Havanese puppy, you will be enthralled by the thickness and fluffiness of the coat. By the time the puppy is 8 or 10 weeks old, the coat will be 2 inches long! Every month from then, you will see it grow by at least a centimeter. 
Once a Havanese turns one, the coat changes. It morphs from puppy coat to adult coat within 2 to 4 months. During this time, you will see that the coat is unkempt and scruffy. Don't worry, though! It won't stay like that forever. Once the transformation is complete, the coat will go back to being its beautiful best.
Adult Havanese dogs have a double coat – the outside layer and the undercoat. The hair is extremely silky, and just like humans, it can be wavy, curly, or straight. It will grow for another 3-4 years. As it grows, you will see it become wavy our just outright curly. When not taken care of, it may start matting and cause problems. 
Things to remember about Havanese coat care
Please make sure you keep the following in mind:
It is very important that you take regular care of your Havanese. Otherwise, as aforementioned, the coat will start knotting and matting. Grooming may be quite a time-consuming process, but trust us when we say that it is worth it. Regular grooming makes it much easier to tackle.

We highly recommend that you make monthly or bi-monthly appointments with a professional groomer. A professional touch is always great, especially for Havanese dogs. 

Start grooming your dog in the puppy stage itself so that he/she gets used to it. Make it a relaxing and fun activity rather than making it look like a chore or a punishment. Also, make sure you have a bag full of treats handy! Dogs that look at grooming positively are much more cooperative.

Havanese dogs don't shed a lot. But the great news is that they are non-allergenic despite not shedding!

Along with grooming, ensuring that the coat is clean is crucial. Wash your dog at least once a month. Many vets suggest you do it every week, in fact. Once washed, let the coat dry naturally. Using heat may alter the hair's texture. It may end up being more curly/wavy than before, for example. So, even if you want to use a dryer, make sure the setting is on very low heat. For long coats, a dryer is recommended because natural drying can take a very long time. 
You cannot groom your Havanese dog well if you don't have the right brush. It is like a weapon against tangles and matting. The wrong brush can make it hard for you and painful for your dog. We are sure you don't want that.
And on this note, let's proceed to the next section of our article.
Best Brush for Havanese
Here's a list of our favorite hair brushes for Havanese dogs. They are reliable and have been designed keeping the Havanese coat in mind. Please keep reading.
1. Pro Slicker Brush – For Single and Double Coated Dogs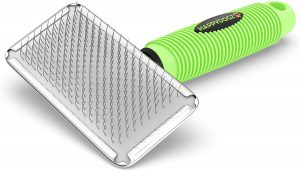 If ever there was a brush that lived up to its name, it is this one. The Pro Slicker Brush is a dematting tool that prevents tangles and fixes them when needed. It also helps remove all loose fur. Frequently using this promises a shiny, detangled coat for your Havanese dog. Below are some of its top features:
The brush doubles as an undercoat rake.

Its bristles and firm and comfortable at the same time. This means that while it gets rid of knots and tangles, it also ensures that your dog feels no discomfort or pain.

It has an ergonomic design, which makes it easy to use.

The brush also removes dirt and dead hair from the coat.

You can use it for dogs with sensitive skin as well. It is extremely safe!

You don't have to worry even if the coat is very thick (as is the case with adult Havanese dogs). The brush will take care of it without fuss.

The Pro Slicker Brush comes with a complimentary dog grooming e-book as a free add-on.

[/vc_column_text][/vc_column][/vc_row][vc_row][vc_column][vc_column_text]
2. Chris Christensen Pin Brush for Havanese – Oval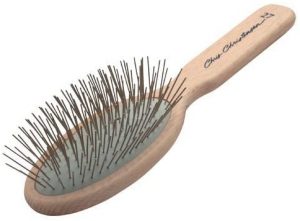 This 27mm oval brush from Chris Christensen is Amazon's Choice and, of course, our choice too. It is made of stainless steel pins of the highest quality, easing the grooming process for you and your pooch. Here are a few more details:
The tips of the pins are ground and polished. They are, thus, very smooth.

The body of the brush is made of solid beech wood. The handle is easy to grip and durable.

The brush's cushion is firm but soft.

The length of the body is 8 ½ inches.

You can easily get rid of debris, dander, and dead skin with this pin brush.

It also works on matting and tangles, removing them without issues.

While the brush is quite gentle on the skin, we advise you to follow the owner's manual to ensure that you use it properly.

[/vc_column_text][/vc_column][/vc_row][vc_row][vc_column][vc_column_text]
3. Hertzko Self Cleaning Brush – Slicker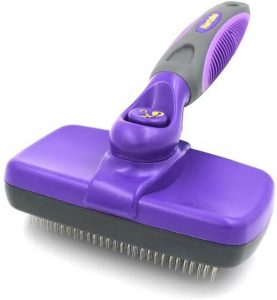 Your search for a gentle slicker brush that removes tangled hair and takes care of the undercoat ends here. The Hertzko Self Cleaning Slicker Brush has many happy users because of its many superior features. Some of them are as follows:
Whether you want to get rid of loose hair or those nasty knots, this brush is your friend! It also removes dander, dirt, and tangles.

The bristles of the slicker brush are fine bent wires. They penetrate right into the undercoat but do not hurt the skin at all.

The brush is self-cleaning, and we absolutely love this feature! You don't have to spend time after you are done grooming to clean this brush. Just press a button, and the bristles will come out clean like before. 

It has been designed to do more than just brushing! It also massages the body for a healthy coat. It works to improve blood circulation, and your dog will feel great after each grooming session.

The handle is anti-slip and has a comfortable grip. You won't feel any wrist strain while or after using the brush.

[/vc_column_text][/vc_column][/vc_row][vc_row][vc_column][vc_column_text]
4. Boshel Dog Hair Brush for Havanese – Pin Brush
The multi-functional Boshel Dog Hair Brush is another gem in the pin brush category. It detangles, removes loose hair, and is very comfortable. It has many more attractive features, such as the following:
One side of the brush has pins that comb out loose hair and remove matting, tangling, dirt, etc. The other side of the brush is for cleaning purposes! You can remove your Havanese dog's hair from surfaces and clothes with this side. Isn't that fantastic?

The brush is ideal for bathing, daily grooming, and undercoat dog rake.

The pins have rounded edges and are fitted onto a breathable cloth. This is why they are very gentle on the skin. 

Your dog will feel no discomfort or pain during or after usage. In fact, many dogs are known to enjoy grooming time because the pins are so soft.

The handle has a soft grip and an ergonomic design. It is easy to use and does not cause any strain on the hand.

The brush works well on all types of hair and coats. So, even if your Havanese has curly or wavy hair, you can buy this brush without worries.

[/vc_column_text][/vc_column][/vc_row][vc_row][vc_column][vc_column_text]
5. Andis Pet Comb for Havanese – Steel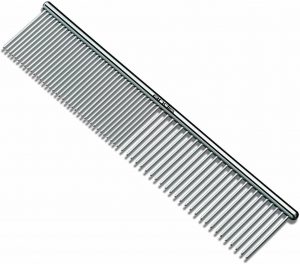 This simple-looking, lovely comb can do wonders for your Havanese. You can choose the small variant that measures 7 ½ inches for your little pet. Find out more about it below:
It is a very lightweight comb that's easy to hold and use. You can groom your dog every week without feeling any fatigue.

It can remove tangles, matting, loose hair, debris, dander, and dirt.

It stimulates the hair follicles and the skin for better blood circulation.

You can use the comb for some after-grooming fluffing as well.

The comb has 2 types of teeth – coarse and fine. You can use either based on the requirements.

[/vc_column_text][/vc_column][/vc_row][vc_row][vc_column][vc_column_text]You will notice that all the brushes we mentioned here are excellent for Havanese. But, they are different in either the type of teeth or the way they are designed. We deliberately included various types to give you a wider range of products to choose from. Remember to compare them and pick the best based on your dog's skin type, coat type, and the length of the hair.
If you have any concerns or doubts regarding any of these brushes, please feel free to talk to us. [/vc_column_text][/vc_column][/vc_row]