Guide
Best Dremel Bit For Dogs – Top Reviews And Guide From Experts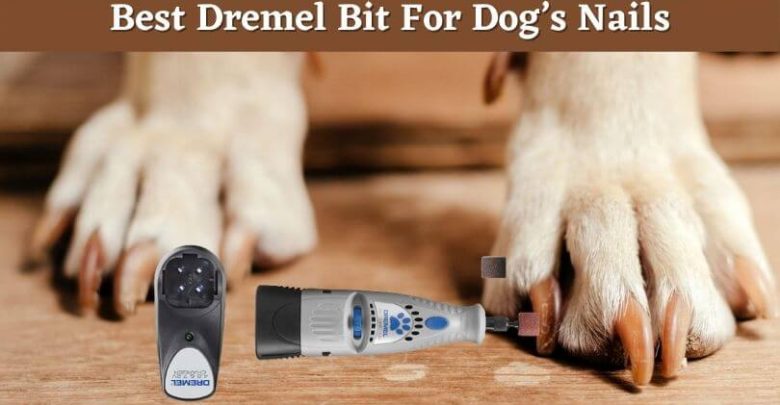 When it comes to dogs, all's well and good until someone takes out the nail clipper. An otherwise docile dog suddenly activates and wreaks havoc because he/she is scared of what that pointy thing might do! As much as you love playing with your dog, we are sure chasing him/her around the house is no fun at all. Also, instilling so much fear in a dog is not a nice thing. One bad experience and they will be scared for life. We are sure that's not what you want.
Until early 2020, it was easy to just take your dog to the groomer and let him do the dirty work for you. Dogs are oddly quiet and submissive at the vet and the groomer, aren't they? But now with a pandemic gripping the whole world and due to the dangers of stepping out, we advise that you do your best to groom your dog at home. If nail clippers are not your dog's thing, he/she will appreciate the switch to a Dremel bit. Nail grinding is a safer, less stressful process.
Why should you cut your dog's nails?
Dog nail care is not the same as human nail care. We can go without cutting our nails and manicuring them however we want. They are more of a fashion statement for us. For dogs, though, it is a different story. Long, uncut nails make it difficult for them to walk. They also get tangled in clothes, making them trip and freak out. This is why, you should always make sure that the nails are trimmed and neat. 
Can you use a regular Dremel on dog nails?
A regular Dremel has various purposes and is used in DIY projects. So, can you use the same for your dog? The answer is yes. It is not very different from a pet Dremel when you look at it functionally. When you think about ease of use though, the pet Dremel will take the cake. Since these are designed specifically for dog nails, they are smaller and easier to use. They also safer. 
Which attachment must you choose for grinding dog's nails?
We suggest that you go for sandpaper attachments. Stone grinders are not recommended because they are slightly harder to use and get hot very soon. You have to be extra careful and sudden movements may be dangerous. Sandpaper is a safer bet. Go with the middle grit option to be on the safe side. It is faster than fine grit sandpaper and does not cause damage. 
Best Dremel Bit For Dog's nails
Finding the right product requires quite a bit of research and understanding. This can be a time-consuming process. We hope our top picks help you in this regard.
1. Dremel SD60-PGK Pet Nail Grooming Sand Discs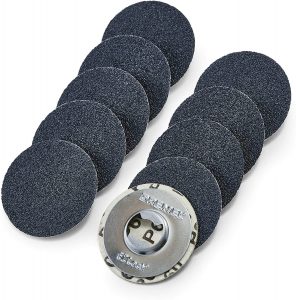 The Dremel Sand Discs for pet nails are among the more popular Dremel bits among dog owners. They are original Dremel bits, which means they are trustworthy and reliable. Below are a few of their features:
They have been designed specifically for pet grooming but you can also use them for other sanding purposes.

They are of the perfect size for easy grooming. You can fit them in the pet grooming nail guard from Dremel.

The discs comes with an EZ lock that holds accessories in place and lets you change them easily. You just have to pull, twist, and release.

They are not really gritty and thus, are quite safe. You can use them once a week for regular grooming.

You must remember that they will work fine for 3-4 uses. You can consider them as disposable sand discs.
What we like
They are easily affordable

They file the nails well, especially when they are not overgrown

Their size is perfect
What we don't like
They tend to get hot

They are not long-lasting

You can only use these with the Dremel Pet Grooming Nail Guard
Who can use this regularly
They are suitable for all pets but make sure that they nails are not too long

If your dog has very long nails, you may need to go to the groomer because this product will not really help

---
2. Groomers Best Friend – Diamond Rotary Nail Grinder for Dogs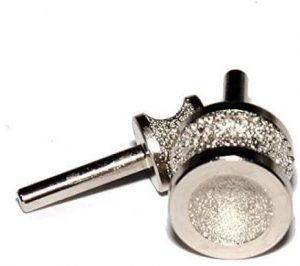 The Groomers Best Friend Nail Grinder for dogs is an excellent handheld tool to trim nails and keep them clean. It has multiple features that make it a must buy. Let's take a look at a few:
It is a generic grinder that you can use with tools from various brands such as Dremel and Diamondg.

It is an excellent tool not just for home grooming but also for professionals. It gives perfect, smooth nails in no times.

The brand prides itself in being a painless option for pets that trims the sides and the tips with the same ease.

The grinder also has a fine tip that helps in polishing the nails.

Since it is cooler and quiet, dogs will take less time to adapt to it. If you have a worried dog, it will be easier on him/her as well.

There are multiple sizes to choose from based on the breed of your dog.

This is a heavy-duty nail grinder that comes with a lifetime warranty.
What we like
Very cool and smooth – does not heat up

Takes care of the edges as well as the tips

Suitable choice for anxious dogs
What we don't like
It is expensive

Needs more pressure
Who can use this regularly
It is ideal for all pets because it is available in different sizes. You can pick the one that suits your dog's needs.

It is one of the best choices for small dogs.

---
3. Dremel 445 ½-inch 240 Grit Sanding Band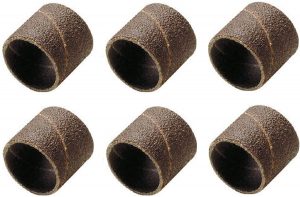 This set of 6 Dremel bits is a good choice for nail trimming and carpentry projects. You can use it on rubber, fiberglass, wood, and metal surfaces with ease. Its features are as follows:
These are half-inch sanding bands with 240 sanding grit.

They are very long-lasting thanks to the fact that they have been made using aluminum oxide. 

You don't have to worry about fitting because they fit perfectly on a Dremel.

When compared to average bands, they are smaller but do the job perfectly well.

You will not find any edges on these sanding bands. So you don't have to worry about snags or cuts.
What we like
They are incredibly durable and will last quite a long time

They are fine grit sanding bands and are very easy on the nails
What we don't like
You have to buy the mandrel attachment separately
Who can use this regularly
We would say that these are suitable for small nails because of their smaller size

If you have a large dog, you may not like these sanding bands

---
4. Andis EasyClip Animal Nail Grinder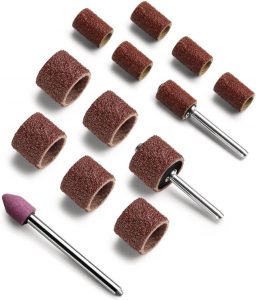 The Andis Nail Grinder is a multi-pack with different sizes of Dremel bits. If you have more than one pet, this set will be a good choice for you. Read on to find out more:
It has two sizes of bands and sanding drums. You can choose based on your dog's size.

Its finishing stone works to give you a smooth finish and shape your dog's nails neatly.

It has 2 speeds that you can switch between as you work.

The manufacturers say that this is a stress-free way of trimming your dog's nails.

The package has the following: 2 sanding drums of 1/4-inch and ½-inch. 2 sanding bands of ¼-inch and ½-inch.
What we like
Long-lasting because it has so many options

Excellent choice for dogs who are slightly anxious about nail clippers
What we don't like
You have to be extremely careful while using these Dremel bits. Make sure you practice slowly before going all out.
Who can use this regularly
Suitable for homes with 2 or more dogs

Not suitable if you have just 1 dog – the other sizes will go waste

---
5. Dremel 407 ½-inch Drum Sander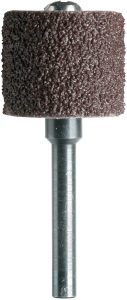 This powerful tool is also from Dremel (not generic). It is Amazon's Choice because users seem to love it. Go through its features to understand why.
It comes coated with an aluminum oxide abrasive (60-grit), which makes it long-lasting.

The sander is suitable for pet nails, wood, and fiberglass.

You can shape the nails round and smooth them down with ease.

They are ½-inch in thickness and have a 1/8 diameter shank.

The cylinder sanding band can be replaced easily after it is worn out.
What we like
Medium grit – perfect for all dog nails

Long-lasting
What we don't like
This is not a pack – it is just one sander

It only fits certain Dremel models. So, be sure before you purchase
Who can use this regularly
This sander is suitable for all dogs

---
People also ask
Now, let's take a look at what questions our readers are frequently asking:
1) Is it better to grind or clip dog nails?
Not many dogs fancy their nails being clipped. Grinding nails seems to be the more acceptable option.
2) Does Dremel hurt dogs?
If used properly, it will not hurt your dogs.
3) Are nail grinders bad for dogs?
No, they are not. The only downside of nail grinders is that they are loud. Dogs that don't like noises may not warm up to grinders.
4) What Dremel do dog groomers use?
They usually use Dremel 7020.
conclusion
Choosing a Dremel bit wisely is the first step towards ensuring a happy, painless grooming session. Be patient the first few times as your dog gets used to the new tool. If you have never used one before, we suggest you do a few empty rounds first to understand the speed and control before you start trimming your dog's nails. All the best!