Guide
Best Dog Houses For Husky – Top Choices To Pick From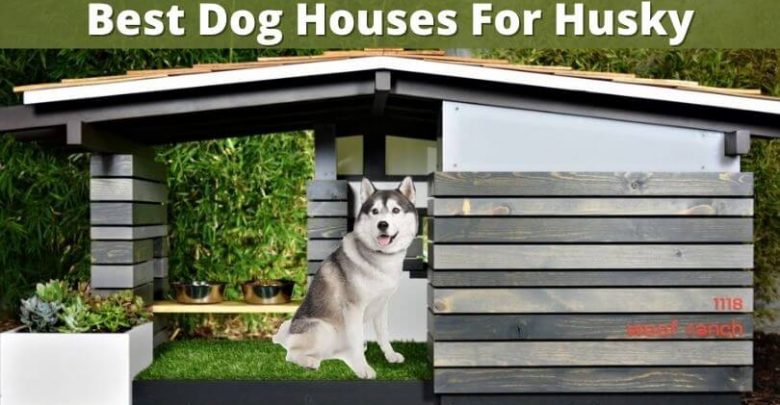 Dogs are easily among the most loving animals to walk the earth. The loyalty, trust, and love they provide to humans are unmatchable. So, if you have one, it is only fair that you reward him/her with unconditional love and care. 
Now, just like us, our dogs like having their personal space to relax, sleep, and hang out. It is their safety net, much like our bedroom. This is why we urge you to get a separate dog house especially if your furry pet loves hanging out in the backyard or the garden. A sturdy, spacious dog house will do wonders not just for your dog but also for you.
This article is dedicated to those who are looking for dog houses for huskies. These adorable animals come under the large breed of dogs and have specific requirements when it comes to dog houses. Let's explore and learn more!
Things to remember while buying a dog house for a husky
You don't need to put as much consideration into a dog house as you would in your own home. But you also shouldn't be careless about it. You want your husky to be comfortable and safe at all times. To ensure this, there are certain parameters you should keep in mind. They are as follows:
Durability:

This feels obvious but we have been surprised multiple times. Many buyers take this for granted and end up with disappointing dog houses that don't last long. Avoid making the same mistake and invest in a sturdy house made of wood, reinforced plastic, or stainless steel depending on the weather conditions in your location. 

Temperature:

Speaking of weather conditions, temperature is a very important factor especially if you live in a cold region. A dog house with insulation is mandatory if you experience sub-zero or around zero temperatures. A protected entrance is an added benefit, much needed during winters.

Size

: A cramped dog house is very uncomfortable. Your dog might learn to live there but will never be happy. He won't even be able to stretch his legs as he sleeps. Always buy a dog house that's roomy enough for your dog to walk around and sleep comfortably. Also, if you have a puppy, take into account the future and how much he is expected to grow. There are multiple sizes on the market and you can find the perfect size for a husky in no time.

Ventilation

: Of course, the dog house must have good ventilation. A ventilated roof will help keep the house fresh and airy throughout the year.
Other factors that we recommend you to consider are sloping roof, adjustable feet, ease of assembly, and ease of cleaning.
Best dog houses for husky 
Here are some shortlisted dog houses. Our experts love them and we think you will too.
1. Petmate Precision Extreme Outback Log Cabin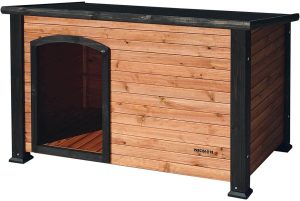 Petmate is well-known in the world of pet supplies. It is a leading brand that offers quality products. This dog house is a proof of the same. It is available in various sizes and we think that L and XL options will be perfect for huskies. Below are a few more details:
The primary material is stainless steel and solid wood. It also has a protective coating for complete safety.

The dog house has a raised floor and a slanted asphalt roof, making it quite a comfortable abode for dogs.

You can use this house for kennel training so that your dog stays in it, feeling comfortable and safe.

It is very easy to assemble. You can do it by yourself in just 3 steps.

It has an offset door that protects dogs from wind and rain.

Its dimensions are 46.1 x 32.7 x 5.3 inches.

---
2. Petmate Indigo Dog House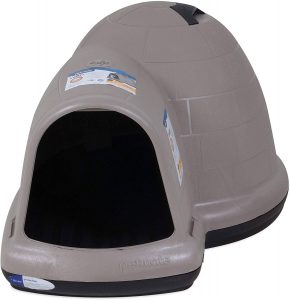 This is another excellent dog house for huskies from Petmate. It is especially suitable for those who live in cold areas because it is weather-proof and highly durable. Let's find out more:
This is a very cute igloo-shaped dog house with insulation. That means that whether it is cold or hot, your dog will be happy and protected. 

The dog house's roof has vents for fresh air circulation.

Its raised floor and side moats ensure that the floor remains dry.

Its anti-microbial protection is a spectacular feature because it keeps odor away and ensures there is no microbial growth inside.

Its dimensions are 51.5 x 39.3 x 30 inches.

---
3. Petsfit Outdoor Wooden Dog House
This particular dog house comes with unique features that are sure to entice you (and your dog). It is also very sturdy and weather-proof. Below are a few more details:
The dog house has a removable roof that facilitates easy cleaning.

It is very easy to assemble because it has pre-drilled holes. It also doesn't take too long!

It stands sturdily in rain, sun, and snow, protecting dogs from all types of weather.

The bottom of the house is removable as well.

Its elevation base ensures thorough ventilation and the adjustable feet help you create a platform when needed.

The dimensions of this dog house are 39.76 x 23.23 x 27.44 inches.

---
4. Trixie Classic Outdoor Wooden Dog House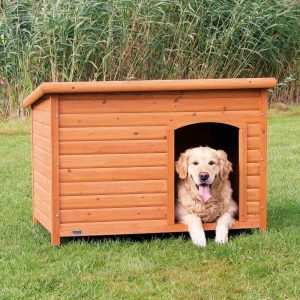 Trixie is another leader when it comes to pet supplies. From toys to dog houses, it has done well in establishing itself as a go-to brand. But, does this outdoor dog house live up to expectations? Let's find out.
It is made of solid pinewood, plastic, metal, and composite asphalt shingles. 

It is completely weather-proof. It is also resistant to drafts.

The roof is raised and removable so that air circulation is seamlessly. It also makes it easy to clean. 

The adjustable feet keep the dog house leveled even if the ground is uneven.

Its tongue and groove design ensures a tight and sturdy seal.

The dog house itself doesn't come with a door but you can buy it separately.

Its dimensions are 45.5 x 31 x 32.25 inches.

---
5. ASL Solutions Foam Insulated Dog Palace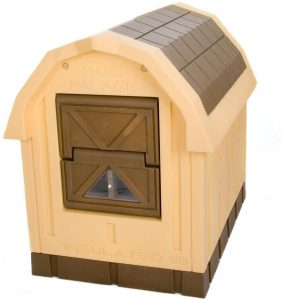 Here's a very cute looking dog house for your husky. It is made out of Styrofoam and EPS foam for proper insulation and sturdiness. It also has the following features:
The entire house has 4 inches of real foam insulation. This ensures seamless temperature control.

It has a raised roof and excellent cross ventilation to keep your dog comfortable.

Its self-closing door is a handy addition and we love this feature.

It is very durable and easy to maintain. You don't have to worry about it at all.

The floor has a drain hole to remove liquid from the dog house.

The dimensions of this adorable dog house are 47.5 x 31.5 x 38.5 inches.

---
People also ask
Now that you know what's on the market for your dog, let's answer a few questions on this topic to gain further clarity:
1) Do huskies like dog houses?
Yes, they usually like their own space. A little kennel training goes a long way in making them comfortable in the dog house.
2) How big should a dog house be for a husky?
Huskies are considered mid-sized dogs. Any dog house that is around 42 inches tall will be good enough for your husky
3) Is a husky an outside dog?
Yes, huskies love the outdoors and most of them enjoy living outside.
4) Do blankets keep dogs warm?
Yes, they do.
Conclusion
Buying a good, insulated, and safe dog house for your husky is one of the best ways of showing how much you love and care for him. Any of the aforementioned choices are good and we request you to compare and take the final call. Don't forget to share what you ended up purchasing!