Guide
Best Brush For An American Eskimo Dog – Top Options Reviewed For Your Dog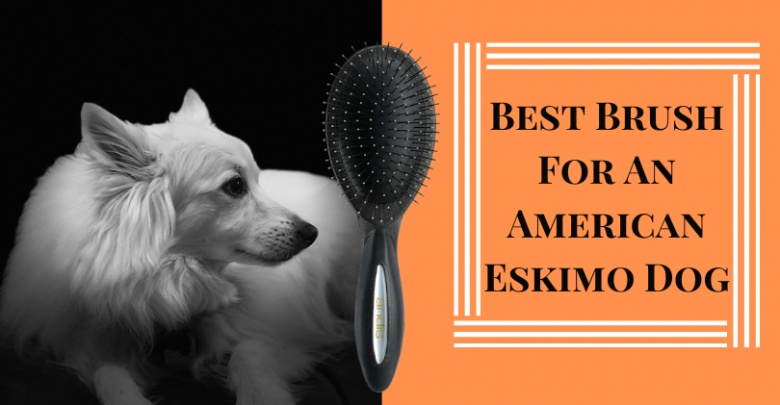 So bushy, so milky, so adorable! If there was a right way to describe the American Eskimo dog, this would be it! These beautiful little dogs are bundles of joy, loaded with energy and always ready to give you a much-needed break from the noise in the human world.
One of the most attractive features of these dogs is their fur. It is luscious and fluffy, attracting eyes all the time. In fact, it is their coat that adds to their cuteness and makes them irresistible. We dare you to walk past one without petting it – it's not possible! 
As American Eskimo or Eskie dog owners, it is essential to ensure that their coat remains fluffy and healthy. And, we are sure we don't need to tell you – brushing it regularly is the first and the most important thing you should do. This raises a lot of questions. In this article, we shall address them and help you find the best brush for your Eskie.
About The American Eskimo Coat
American Eskimo dogs are double-coated dogs. This means that they have two coats – the inner coat is short and soft while the outer coat is long and lustrous. Together, both coats make the fur extremely dense. This is why grooming them is quite a challenge for many dog owners.
Do American Eskimo Dogs Shed A Lot?
Just like most long-coated and double-coated dogs, American Eskimo dogs shed quite a lot. They usually have two time periods per year where they shed a lot. But even during the rest of the year, they shed quite significantly. This is why it is important to groom them at least thrice a week. 
Fun fact: American Eskimo coat is water-proof.
Best Brush For An American Eskimo Dog – Buying Guide
Since there are many types of brushes for dogs on the market, we thought we would put together a buying guide that would help you choose the right one for an American Eskimo dog. Below is the checklist:
Buy a lightweight brush with a good grip. This is essential because you will be using the brush a lot – once in 2 days. The whole grooming process is also quite tedious. So, choosing a user-friendly, ergonomic brush will make the job easy for you. 

Choose one that has been specifically made for double-coated dogs. The bristles must be sturdy but not too sharp so that they penetrate and do a good job without hurting your dog. 

Another important factor is the type of brush. As you may already know, there are multiple types of brushes available on the market. But, bristle brushes and pin brushes are the best. We do not really recommend slicker brushes because they work better on short coats but you can always try them especially if your American Eskimo has a thin coat (common in dogs living in warm areas).
Best Brush For An American Eskimo Dog – Expert's Choice
Now, we move to the most interesting part. Let's explore all the good choices from which you can pick the right brush for your adorable little dog. 
1. Coastal Pet – Plastic Wire Pin Brush (Large)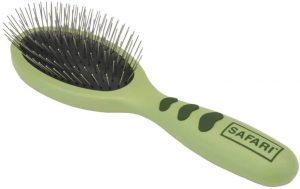 This is a lightweight, easy to use brush for long-coated dogs from Coastal Pet. It is made out of wood and is ideal for general grooming. Let's go through its features:
You can use it regularly without any problems. You can also use it with a slicker to remove tangles, etc.

The brush works to remove debris and loose hair from the coat.

It also massages the skin, stimulating it to produce natural oils. This makes the coat shiny and ensures that it is healthy.

It has an ergonomic design and a no-slip handle.

The manufacturers advise you to brush your doggo in long strokes in the direction of growth.
What we like
Durable and long-lasting brush

Pins are long and strong

The brush has the ability to hold more hair than usual
What we don't like
Cleaning the brush is usually a challenge
Who can use it?
Dogs of all breeds and sizes, especially long-coat dogs

Ideal for large and medium-sized breeds

---
2. JW Pet Company GripSoft Brush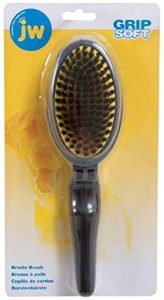 The JW Pet Company brush is a bristle brush with a non-slip handle and an ergonomic design. Some of the features we love are as follows:
It is an excellent finishing tool that kindly removes all the shedding hair.

Its bristles are soft yet firm, doing no harm to the dog's skin.

If your American Eskimo has tangled hair, this might help. Many users have said that it removes tangles without unnecessarily pulling the hair.

The brush also picks up debris from the coat quite easily.

It is great for regular usage.
What we like
Tough bristles

Can remove matting considerably well

Well-priced
What we don't like
A few users have said that it is not really a "soft" brush
Who can use it?
Large breeds with a thick coat

Also suitable for small dogs

---
3. Andis Pet Grooming Tool

The Andis Pet Grooming Tool is a pin brush designed to be ergonomic, easy to use, and kind to the dog's fur. We have tried and tested this brush and we absolutely love it for the following reasons:
It works to remove dirt, tangles, and matting. It can also remove all the shedding hair effortlessly.

The brush is easy on the skin but it massages it and stimulates oil production. It also stimulates the hair follicles to promote growth.

The soft-grip handle ensures easy grooming sessions especially for long-coated dogs. Even if you have a long session, you won't feel any fatigue in your hand.

The brush is firm but the bristles are soft, ensuring that they don't hurt the skin at all.

Andis is known for top-quality products in the petremove dirt grooming department and this brush does not disappoint. 
What we like
Easy to use and highly functional

Stimulates hair growth

Good grip
What we don't like
You shouldn't use it too often, according to a few pet owners. It may dull the coat.
Who can use it?

---
4. FURminator Deshedding Tool for Dogs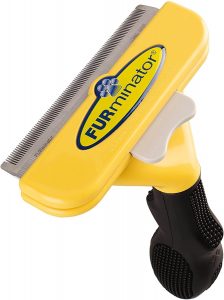 There's no way that we can go through a list about dog brushes without mentioning the FURminator. True to its name, it is an excellent deshedding tool that you will love. Read on to find out its features:
This is a stainless steel de-shedding tool designed specifically for long hair. 

The brush works seamlessly on the topcoat and then reaches the undercoat to remove all the loose fur without problems.

One of the features we love the most is the FURejector button that removes all the hair from the brush, making it very easy to clean.

It has a very sturdy and ergonomic handle. You can use it well, even for long grooming sessions, without feeling any fatigue in your arm.

It works well to remove dead hair without harming the skin.
What we like
Very easy to use

Super easy to clean

Does complete justice to its price
What we don't like
Who can use it?
Dogs with a coat longer than inches

Large dogs

---
5. Coastal Pet – Self-cleaning Slicker Brush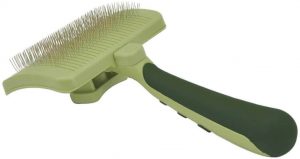 No prizes for guessing why this Coastal Pet brush made it to our list despite not being a pin brush. It is a self-cleaning tool with a lot of good features. A few of them are as follows:
It has stainless steel pins that are quite easy on the skin but work well to detangle hair.

The self-cleaning brush has retractable pins. That's who you can get rid of all the dead hair in seconds.

Even though it is a slicker brush, it has been designed to work seamlessly on dogs with long and medium coats.

Its ergonomic handle promises a good grip during the grooming session with minimal effort.

The brush is suitable for mats, tangles, dead hair, debris, and general grooming.
What we like
Very easy to use

Retractable pins – self-cleaning

Reduces shedding
What we don't like
The tips of the bristles are not coated
Who can use it?
All long-coated dogs

All double-coated dogs

---
People also ask
1) How often should you brush an American Eskimo dog?
At least 2-3 times a week.
2) Should you shave an American Eskimo?
No, we do not recommend shaving your dog.
3) Do American Eskimos dogs smell?
No, unless they are extremely dirty and have not been bathed for a long time, they don't have any dog smell.
4) Why is my American Eskimo not fluffy?
It could be because of warm climate. The fluffiness also depends on genetics and diet.
Conclusion 
We hope our well-rounded article gave you a clear idea about American Eskimo dogs and which brush you should pick for your furry friend. If you have any more questions and would like us to help you, please reach out to us.