Grooming
Best grooming tools for poodles –Tender loving care for your pooch!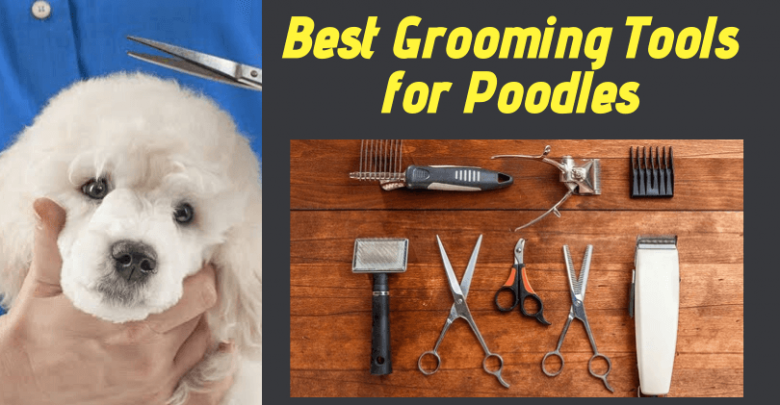 [vc_row][vc_column][vc_column_text]
Furry, curly, and oh so sweet! Poodles are indeed a delight. They have such unique personalities that it is hard not to fall in love.
However, with the need to dole out love comes the need to take good care of them. Otherwise, their health begins to suffer. Since poodles have such a thick and curly coat, along with everything else, it is paramount that you focus on grooming. Grooming a poodle can be challenging if you don't make it a routine in the puppy stage. Their coat never stops growing, and if you let it grow too much, grooming will be that much harder. You will end up paying the groomer a lot of money to get the job done. 
Instead, why not exercise vigilance and make it a habit to groom your poodle regularly? This will save you from a lot of headaches and lengthy bills. The only thing you will have to focus on is buying the best grooming tools for poodles. That is exactly what we shall focus on in our article today. 
Poodle grooming tips
Before we jump into the details of grooming tools, we would like to give you a few tips to make the grooming process easy. Please keep reading.
Brush the hair every day. Otherwise, it will matt and tangle up. 

Vets recommend a combination of brushing and combing to ensure that the hair is healthy and tangle-free.

Bathe your poodle once a week using lukewarm water and a pet shampoo.

Use a good pair of clippers and clip the nails regularly. Check the growth and clip the nails whenever you see fit.

Clean the ears and teeth with appropriate tools. For ear cleaning, you can go to the groomer in order to be safe. For the teeth, use a soft toothbrush and dog toothpaste. Brush the teeth once a month.

Clip the coat to keep it short. If you want to try new styles, you can head over to the groomer and give your poodle a makeover.
Best grooming tools for poodles 
There are multiple different grooming tools for poodles on the market today. We have collated the best according to different needs. Here they are:
1. Detangling Pet Comb with Long and Short Teeth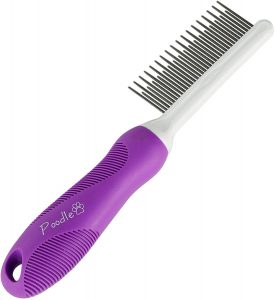 This is a 2-in-1 detangling comb that cuts the grooming time in half. You don't need two different tools for detangling and combing if you get this one. It takes care of both. What else does it offer? Here you go:
The comb has a non-slip handle that makes it easy to hold and use. It won't slip and hurt your poodle accidentally when you use it. 

The teeth are made with stainless steel. You have one row of long teeth and one row of short teeth.

All the teeth are sturdy and capable of removing knots in the hair.

Along with poodles, this comb is perfect for kittens, horses, and bunnies.

Use the comb every day to groom your poodle. He/she will be healthy, happy, and more beautiful than ever!

[/vc_column_text][/vc_column][/vc_row][vc_row][vc_column][vc_column_text]
2. Ceenwes Dog Clippers for poodles – Set of 10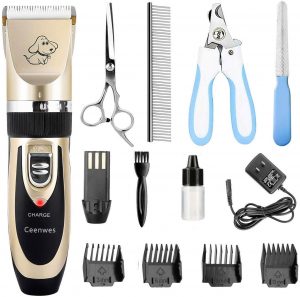 Let's shift our focus to the nails now. We present to you a complete set that you can use to groom your poodle regularly. Below are a few of its features:
It has 10 tools, including a pet clipper, a cleaning brush, 4 comb attachments, a stainless steel comb, a pair of stainless steel scissors, a nail file, a nail clipper kit, and an AC power adapter.

The clippers are unique in that they make almost no noise. Noisy clippers can create chaos by scaring your poodle. Quite clippers are easier to use.

The dog clippers also have a motor that cut the hair easily without clamping and causing pain.

The entire set is cordless. The grooming clippers can last for 70 minutes on a full charge.

For trimming, you can choose any of the 4 attachments included based on the requirement. You can use any of these attachments based on the purpose. 

[/vc_column_text][/vc_column][/vc_row][vc_row][vc_column][vc_column_text]
3. Poodle Pet Dematting Comb for Dogs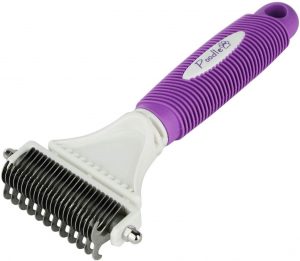 Some poodles are more prone to matting than the others. If yours is one of them, you definitely need a dedicated grooming tool for dematting. We suggest that you go with this one because it is reliable and does not cause pain. Let's find out more: 
It has mini-blades that are gentle and safe. They cut through matted hair with ease. This is why the manufacturers claim that professional groomers prefer this comb.

You can use the tool not just for your poodle but also for Pomeranians, show dogs, and dogs with coats that matt easily.

The handle is made of anti-slip rubber, enabling you to grip it comfortably without the fear of it slipping out of your hand.

The teeth are made of stainless steel for more reliability.

You no longer need to use scissors or blades to cut the matted hair. The Poodle Pet Dematting Comb does the job but with more safety and with zero pain.

[/vc_column_text][/vc_column][/vc_row][vc_row][vc_column][vc_column_text]
4. Tropiclean Tangle Remover for poodles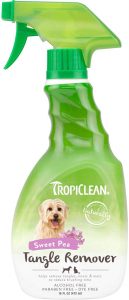 Sometimes, a comb is just not enough. You need something to ease the knots and the matting on the hair. That's when the Tropiclean Tangle Remover comes handy! This Amazon's Choice product makes brushing easier by providing a pre-treatment to the coat. Here are a few important details:
The product is 97.7% naturally derived, promising to be safe. It has multiple plant extracts, vitamin E, emulsifiers, preservatives, and fragrance.

It is alcohol-free, paraben-free, and dye-free.

It is also devoid of soap.

It is super easy to use. Simply spray it on the hair and massage it in. Then, you can proceed to brush the hair. There's no need to rinse it.

It has been formulated for dogs and cats above the age of 12 weeks.

It has a nice, clean scent.

[/vc_column_text][/vc_column][/vc_row][vc_row][vc_column][vc_column_text]
5. Safari Dog Dematting Comb for poodles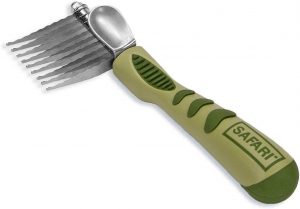 We are ending this list with another fabulous Amazon's Choice product. The dematting comb from Safari has been designed to take care of tangles and matting without problems. Below are a few of its features:
It has stainless steel, serrated blades that cut through easily without causing pain.

It is perfect for all breeds that have medium to long coats. It works like a charm even on coarse hair.

If you are a lefty, you can rearrange the blades in the opposite direction. We absolutely love this feature! 

The manufactures advise you to comb in the same direction of the growth. Doing the opposite is painful and inefficient.

The handle is easy to grip and not slippery.

[/vc_column_text][/vc_column][/vc_row][vc_row][vc_column][vc_column_text]We hope our list helps you get the best grooming tools for your poodle so that you take extremely good care of him/her. If you have any questions, please feel free to get in touch with us through comments. [/vc_column_text][/vc_column][/vc_row]