Grooming
Best Shampoo for Miniature Schnauzer: Shampoo for Your Furry Friend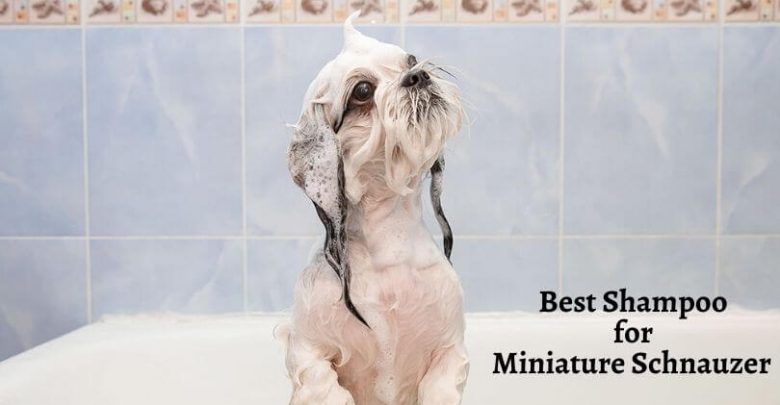 Miniature schnauzers are the cutest little fur mates, aren't they? Their double coat and adorable whiskers make them instantly lovable. We don't think anyone can walk past one without exclaiming in happiness or wanting to hug them tight! So, if you have a miniature schnauzer best friend, you are among the lucky ones for sure! You will wake up to their beauty every day, you will get to pet them, and be their guardian angels just like they are yours! 
Best Shampoo for Miniature Schnauzer
However, a miniature schnauzer is different from other dog breeds. Their skin is rather sensitive, and their double coat makes grooming and maintenance a little difficult. But, all you need is a good shampoo that suits their requirements, and you are good to go. The only thing to remember is not to overdo their baths. Pups can bathe once a week, but adult miniature schnauzers don't need baths very often. Once every other week is just fine for them.
Now, without further ado, let's take a look at the best shampoo for miniature schnauzer today. Our curated list will definitely end your search!
1. Earthbath Natural Oatmeal and Aloe Itch Relief Dog and Cat Shampoo

This moisturizing shampoo has been formulated for dogs with sensitive and itchy skin. That's why it is the best bet for your miniature schnauzer. It doesn't just clean the coat, it also moisturizes it! Let's find out more:
It has oatmeal and organic aloe, which are very soothing ingredients.

It heals dry skin very quickly and soothes dogs, making them feel really relaxed.

It is free from Parabens and phosphates. It is 100% biodegradable as well.

It leaves a very beautiful vanilla and almond scent that makes it feel like your dog has just been to the spa! 

You can use it with topical flea control products without issues.

It is safe for dogs and cats above the age of 6 weeks.
2. Espree ES159 16 Dead Sea Mineral Mud Bath for Miniature Schnauzer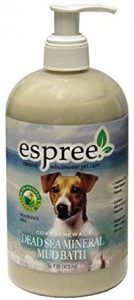 The Espress shampoo is perfect for your little pet because it cleanses, exfoliates, and does a lot more than just cleaning. It is one of the best shampoos out there for dogs with sensitive skin. Here are a few additional details:
It removes impurities from the coat with ease.

It rehydrates and deep conditions.

It also adds gloss and shine to the coat after gentle exfoliation of the skin.

It does not create a lot of lather, but that's not something you should even bother about. It gets the work done!

The shampoo smells great!

It reduces flaking problems, as well.
3. Dog Whitening Shampoo for Dogs with White/Light Colored Fur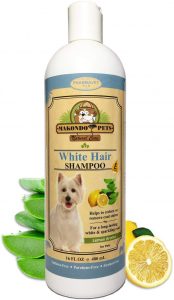 Whether you want to get rid of itching or if your miniature schnauzer has very sensitive skin, this shampoo will end all your concerns! It is a non-toxic, biodegradable formula that is known to work wonders. Below are some of its highlights:
It is free of sulfates and Paraben, making it completely non-toxic.

It fights dryness and protects the skin from itching.

It contains excellent and natural ingredients such as rosemary, sage, lemon, carrot, tea tree oil, and peppermint.

It has a pet-safe whitening agent that brings back shine and gloss of light-haired pets without causing any troubles whatsoever.

It decreases discoloration and helps with detangling as well.

It has an incredible scent that instantly helps your pet relax.

The manufacturers are offering a 100% guarantee, which means you can return the product and get a full refund if you are not satisfied.
4. Oatmeal Dog Shampoo for Miniature Schnauzer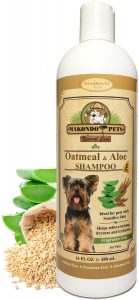 Show your dog how much you love him/her with this incredible oatmeal shampoo. It has aloe vera, vitamin E, and a plethora of other great ingredients. It is all-natural and has no fragrance! Keep reading to find out more:
It has a non-toxic formula that ensures complete safety of pets. You won't have to worry about any allergies, itching, or burning with this one.

It is a mild formula with no perfumes, dyes, sulfates, Parabens, or any harmful chemicals.

It is an all-in-one shampoo because it conditions and moisturizes the coat too.

Along with oatmeal, aloe vera, and vitamin E, it contains glycerin, coconut-based cleansing agents, and other such soothing ingredients.

It helps in detangling.

It protects the coat and makes it shiny.

It soothes the skin in case there's any irritation.

The manufacturers offer a 100% satisfaction guarantee.
5. Healthy Breeds Chamomile, Shampoo and Conditioner

Make way for Amazon's Choice, people! The Healthy Breeds shampoo and conditioner is so loved that even Amazon couldn't resist. And why not? It is the product of a winning combination – oatmeal, chamomile, and aloe! Here's more to entice you:
It is a natural cleaner, specially formulated for dogs with dry and itchy skin.

It cleans the coat and leaves it fresh without any problems.

It does not contain any harsh chemicals. 

You can also use it with topical flea control products.

Since it is natural, you don't have to worry about it harming natural oils and leaving the skin dry again.

It conditions the skin as well, ensuring that you do not need an extra product for it. 
6. Woof Wild Organic, Vegan Shapoo Bar for Miniature Schnauzer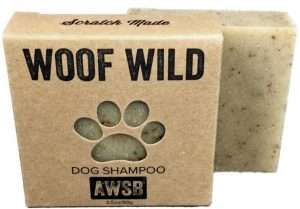 Move on, ordinary! It is time for organic, vegan, and 100% cruelty-free shampoo bars for our loved pets! The Woof Wild Organic Soap is a handmade product that's formulated especially for sensitive skin. Below are a few more details:
It has oats, living clay, and organic aloe.

It is scented with essential oils that not only leave a great fragrance but also keep the insects away from your precious little one.

Even if your dog has extremely sensitive skin, he will love the feel of this shampoo bar!

One important thing to remember is that this shampoo bar is not ideal for cats. So, if your dog has cat friends, make sure you buy separate shampoos for each!

The shampoo bar lasts quite long. So, one purchase and you can forget about replacing it for a long time!
Even though we love all the shampoos we mentioned here, we should confess that we like the Earthbath Natural shampoo slightly more. It has all the right ingredients and works wonders on almost all dogs! Which one are you going to pick? Do not forget to tell us in the comments section!