Food
Best Dog Food for Ear Infections – Reviews and Buying Guide by Experts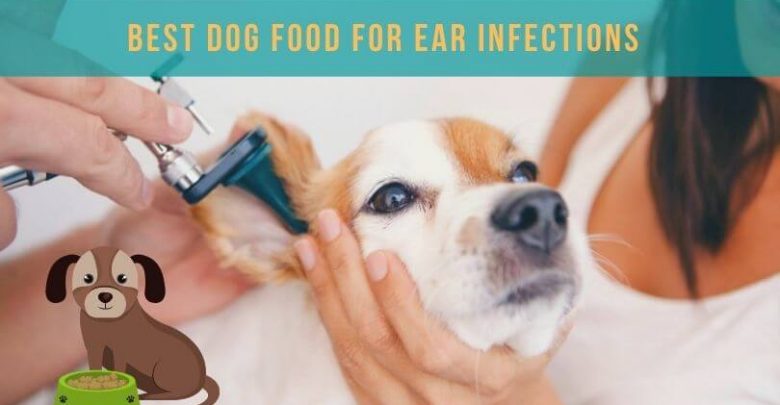 [vc_row][vc_column][vc_column_text]
It is heart-breaking to see our furry pets incessantly scratch their floppy ears. But, it is very common. Many dogs have constant ear infections that may go away upon treatment but reappear every now and then. Sometimes, it is because of seasonal allergies or because an itchy leaf got stuck in. Some other times, it is due to the food they eat. 
Can Dog Food Cause Ear Infections?
Sadly, the answer is yes. 
Dog food has been known to cause ear infections due to allergies. So, if your little pet has sensitive skin and/or is prone to allergies, we urge you to assess his/her diet. Regular ear infections may be due to one of the ingredients. 
This is why it is important to keep a close eye on the pattern and understand when the infections are occurring.
If it occurs during a particular season, it is definitely a seasonal allergy. Allergy to pollen is common among dogs.

If this is the first time it has happened, it may be due to lack of cleaning, a scratch gone bad, or dirt.

If even after cleaning, the infection is back or not gone completely, it may be because of food.
We strongly discourage self-diagnosis and medication. There may be various underlying causes, which only a veterinarian can pinpoint. We urge you to make an appointment so that your dog can receive appropriate care and attention.
Best Dog Food for Ear Infections – Buying guide
Now that we have established that dog food can indeed cause infections, let's examine how to buy the best dog food for dogs with ear infections.
Choose grain-free food to avoid allergies. Grains have been pointed as one of the biggest reasons behind allergies in dogs. So, choosing grain-free alternatives is advisable.

Make sure it is natural food, free from preservatives and additives. These ingredients, which many top brands use, cause a lot of harm to dogs in the long run. Before buying a product, it is crucial that you check all the ingredients and make sure that it is completely natural and devoid of fillers, preservatives, and other harmful substances. 

Hypoallergenic food is ideal for sensitive and allergy-prone skin.

Do not skimp out on dog food. Top quality food may be more expensive but it will save you a lot of money in the long run because it will avoid frequent runs to the vet. Also, it is not good to compromise on your dog's health and well-being by choosing cheap quality food.
Best Dog Food for Ear Allergies – Experts' choice
Our experts have spoken! Below are our top picks for dogs with sensitive skin.
1. Purina Pro Plan Sensitive Stomach – Dry Dog Food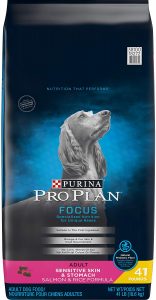 The Purina Pro Plan Dog Food has been formulated especially for dogs with a sensitive stomach. It is available in different packs for small breed and large breed dogs. The salmon and rice dry dog food comes with the following:
The food's first ingredient is salmon, which is considered excellent for the skin and fur.

It also has fish oil and sunflower oil, which are rich in omega fatty acids.

It does not have any artificial colors or flavors. It also does not contain wheat, corn, or soy.

It is an easily digestible formula made for allergy-prone dogs.

It is an excellent choice for adult dogs that are allergic to chicken.

The formulation also contains oatmeal, which is very easy on the stomach.

[/vc_column_text][/vc_column][/vc_row][vc_row][vc_column][vc_column_text]
2. Natural Balance L.I.D. – Dry Dog Food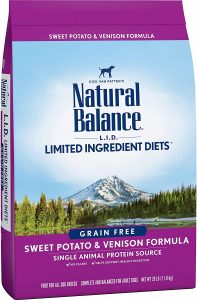 The Natural Balance Limited Ingredients Diets food is one of our favorites because it is a blend of exactly what dogs with ear infections need. It does not have any fillers or additional substances. Here are more details:
The food has a single protein source – in this case, it is venison. Venison is known to help maintain strength. It also has amino acids.

The blend also consists of sweet potato, which contains fiber and aids in digestion.

It does not contain poultry by-products, artificial colors, preservatives, or artificial flavors.

The food has all the vitamins and minerals needed to maintain good health.

It has been formulated specifically for a shiny coat and healthy skin. 

Since it is grain-free, the food will be easy on your doggy's tummy too.

[/vc_column_text][/vc_column][/vc_row][vc_row][vc_column][vc_column_text]
3. Nature's Recipe Grain Free Dry Dog Food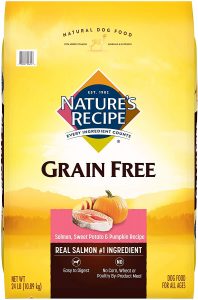 Nature's Recipe is an excellent choice especially if you are looking for high-quality and affordable options. It is available in multiple flavors to enable you to choose whatever suits your dog's dietary requirements. We are specifically going to speak about Salmon, Sweet Potato, and Pumpkin Blend because it is the best for sensitive skin. Below are a few important details:
Salmon is the main ingredient in this blend. It also has sweet potato and pumpkin. All these ingredients are easily digestible.

The dry food has been formulated for dogs of all ages from puppies to senior dogs.

It does not contain corn, poultry by-products, or wheat.

It is highly nutritious, fortified with vitamins, minerals, fiber, calcium, phosphorous, and fatty acids.

It promotes great coat health, skin health, strong bones, strong muscles.

[/vc_column_text][/vc_column][/vc_row][vc_row][vc_column][vc_column_text]
4. Hill's Science Diet – Dry Dog Food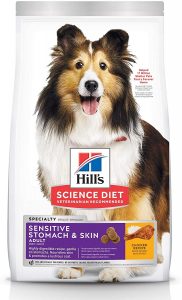 If your dog isn't allergic to chicken, this is the perfect food for him/her. The chicken recipe has been proven to be an excellent choice for sensitive stomachs and skin. Let's find out more:
This is adult dry dog food, made to nourish the skin and promote easy digestion.

It has prebiotic fiber that supports healthy gut.

It has no artificial colors or flavors. It is devoid of preservatives as well.

The chicken recipe also has beet pulp, which is considered very healthy.

The omega fatty acids and vitamin E in the food nurture the coat and the skin.

The manufacturers say that this is a veterinarian recommended product for dogs with sensitive skin.

[/vc_column_text][/vc_column][/vc_row][vc_row][vc_column][vc_column_text]
5. The Honest Kitchen Human Grade Dog Food – Dehydrated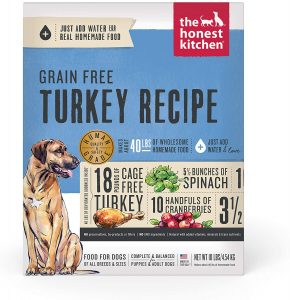 The Honest Kitchen is easily one of the best brands out there and we don't say it. Amazon does! It has many excellent reviews especially from owners of sensitive pets. Here's a closer look:
The top ingredients of this formulation are turkey, cranberries, spinach, and coconuts. All these ingredients are very healthy for dogs.

The food is human-grade and has great quality and taste. Dogs absolutely love it.

It has been formulated to be safe for puppies and adults alike. It is well-balanced for all breeds and all stages of the life cycle including gestation.

Since it is dehydrated food, you will need to add some warm water to prepare the meal. It is fresh and yummy!

The food is completely natural and does not contain fillers, by-products, preservatives, or artificial flavors.

The recipe is highly nutritious and has copious amounts of omega fatty acids, vitamins, and antioxidants.

[/vc_column_text][/vc_column][/vc_row][vc_row][vc_column][vc_column_text]
People also ask
Here are a few commonly asked questions and their answers.
1) What are the symptoms of ear infections in dogs?
Common symptoms include:
Scratching ears all the time

Unpleasant odor around the ears

Swelling, redness, and/or bleeding in the ear

Yellow or bloody discharge from the ear

Hair loss near the ear

Constant head shaking or rubbing the head on surfaces

Scabs on the ear
2) What are the natural ways to treat a dog ear infection?
Coconut oil

Oregano oil

Apple cider vinegar
3) Can medication cause ear infections in dogs?
Yes, certain types of medications can lead to an unhealthy gut, thereby causing ear infections.
4) What is the best thing for a dog's ear infection?
Only your vet can answer this question. If you see a problem, we urge you to speak to the vet instead of resorting to home remedies. The doctor will get to the root cause of the problem and devise a course of action accordingly.
5) What foods cause yeast infections in dog ears?
Millets, wheat, potatoes, corn, peas, and rice are common culprits. 
6) What is the brown stuff in my dog's ears?
It is wax. If there's too much of it, you need to clean it. If you are seeing a yellowish-brown discharge, it is likely that your dog has an ear infection. 
7) Is coconut oil good for ear infections in dogs?
Yes, coconut oil is an excellent home remedy.
Conclusion
Ear infections are quite common among dogs due to various reasons. Changing their diet is one of the easiest, most effective ways of tackling the problem and ensuring that you have a happy puppy! If you have any questions, leave a comment and we will have our experts answer them for you.
 [/vc_column_text][/vc_column][/vc_row]