Food
Best dog food for Chiweenie – Feed your little pet the absolute best!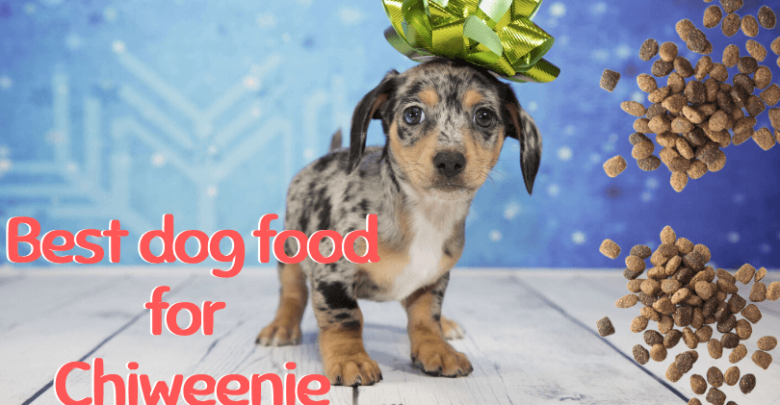 [vc_row][vc_column][vc_column_text]
They have large eyes, a happy personality, and tiny legs. They also have adorable ears! They are none other than Chiweenies. This dachshund and chihuahua mix is a designer breed but still comes under the "toy breed" category. So, while you may be tempted to choose common food for small breeds, we urge you to wait and do your research before going forward. Chiweenies, like other breeds, have specific requirements apart from the basics. Not providing adequate nutrition can lead to a number of health issues. 
Best dog food for Chiweenie
This is why we recommend only the dog food for Chiweenies. But how do you determine the best? There are quite a few options on the market, and they all have their advantages. Picking from the top options will help you add variety to the diet while taking care of the nutritional requirements. Here's a list you can trust.
1. Hill's Science Diet Dry Dog Food (For Puppies)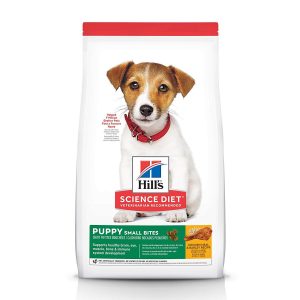 This one is our favorite for puppies. It is a chicken-flavored dry food pack that meets the needs of Chiweenie puppies. Here are a few things you should know about it:
It satisfies all developmental needs of Chiweenie puppies, and this is very important because they tend to grow very quickly, needing a lot of nourishment.

It consists of DHA that's extracted from fish oil. This component caters to eye and brain development.

It is made mostly of natural ingredients.

It has a wide range of minerals that promise strong teeth and bones.

It also has high-quality protein that builds lean muscle, another vital aspect of puppy growth.

[/vc_column_text][/vc_column][/vc_row][vc_row][vc_column][vc_column_text]
2. Royal Canin Health Nutrition for Small Dogs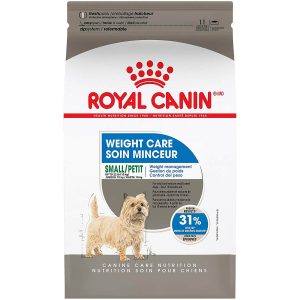 Royal Canin has always been a trustable brand. It lives up to its hype with this pack of food as well. This dog food is for Chiweenies and other dog breeds of the ages 10 months and above. It is highly nutritious and tasty at the same time. What else? Keep reading!
It is excellent for dogs who tend to overeat and gain weight. So, if that's what your chiweenie is famous for, you should try this out!

It has soluble and insoluble fibers that help control weight by keeping dogs full and satisfied.

It is a high-protein formula that builds and maintains muscle mass.

It is also fortified with omega-3 fatty acids. Thus, your little fur pet will have strong bones and joints!

It has 31% less fat content than the brand's regular food for small breeds. We think it is perfect and we are sure you will think the same

[/vc_column_text][/vc_column][/vc_row][vc_row][vc_column][vc_column_text]
3. Healthy Breeds Glucosamine Soft Chews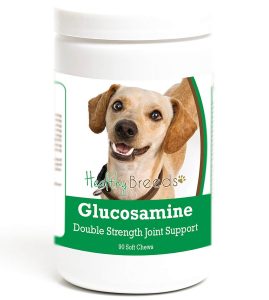 Dogs, especially mixed breeds, need special care for their joints, bones, etc. These Healthy Breeds Soft Chews cater to this need wonderfully. Let's find out more:
They are specially formulated for Chiweenies. 

They are double-strength joint support chews. 

They are tasty and have a moist texture.

You can buy them for your puppies or for older dogs. They work well for all ages.

They mainly contain Omega-3 fatty acids, Omega-6 fatty acids, glucosamine, Yucca, chondroitin, and MSM.

 It is excellent for dogs that have discomfort due to daily exercise.

The chews can be given daily, but the dosage depends on the weight of the dog. The pack's label has all the required details.

[/vc_column_text][/vc_column][/vc_row][vc_row][vc_column][vc_column_text]
4. Blue Buffalo Basics Limited Ingredient Diet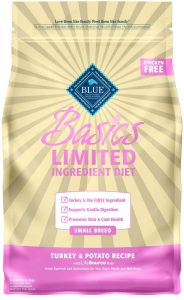 The small breed turkey and potato variant from Blue Buffalo is an absolute delight for Chiweenies. It is tasty and chicken-free! If you are wondering why are recommending this product, you should take a look at its highlights:
It has real turkey along with other ingredients such as pumpkin, potatoes, and peas.

The dog food has been formulated for gentle digestion so that dogs with a sensitive stomach can eat well without health problems. 

It also has Omega-3 and Omega-6 fatty acids that promise a healthy coat and skin.

Furthermore, it has vitamins, minerals, and anti-oxidants. They help boost immunity and provide the required oxidative balance.

The food does not contain soy, dairy, eggs, corn, wheat, chicken, or beef.

[/vc_column_text][/vc_column][/vc_row][vc_row][vc_column][vc_column_text]
5. Merrick Li'l Plates Small Breed – Senior Dry Food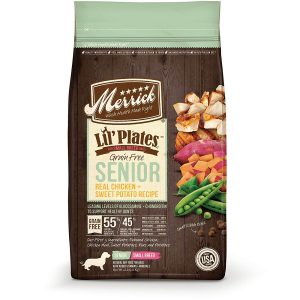 We shall close this list with an option for senior Chiweenies. This Amazon's Choice product has everything your senior dog needs not just in health but also in taste. Below are a few reasons why you should buy it:
Its first ingredient is chicken (real and deboned).

It has 55% healthy protein and fat ingredients and 45% fiber, vitamins, minerals, and more natural ingredients. 

It is no grains or gluten. This helps ease the process of digestion.

The food's nutritional value is enhanced with probiotics and fiber. This combination further helps digestion, keeps joints healthy, and improves hip health.

The kibble is bite-sized and crunchy. This means that your dog's dental health will also stay good!

It has less fat and lower calories so that senior dogs have no problems managing their weight.

[/vc_column_text][/vc_column][/vc_row][vc_row][vc_column][vc_column_text]Which one are you going to pick for your lovely little Chiweenie? Don't forget to let us know through comments. Also, if you have any questions regarding any of the products, please get in touch, and we will be happy to answer them.[/vc_column_text][/vc_column][/vc_row]