Toys
Best Toys for Australian Cattle Dog – Keep your Dog Active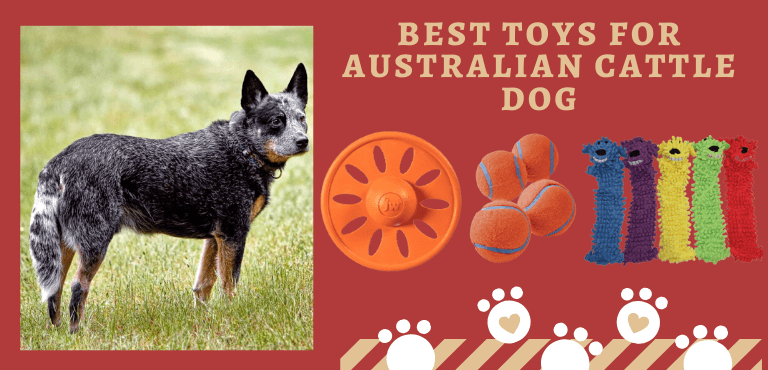 [vc_row][vc_column][vc_column_text]
The Australian cattle dog is an extremely active and social pet. These dogs love having a good time and can get bored if they have nothing to do. That's why it is important to keep them engaged. Now, we understand that it can be hard because you have things to do too. Sometimes, you may be very busy, and some other times, you may not even be at home. How do you keep your dog engaged and happy at all times? The answer is simple: TOYS!
Best Toys for Australian Cattle Dog
Dog toys are a must-have because they give dogs the freedom to play and stay busy whenever they want. This will also relieve you of stress. In fact, with some toys, you can play together in the park. Dogs that play every day and stay engaged are not just happy but also healthy. Isn't that what we all want?
In this article, we shall speak about the best toys for Australian cattle dogs in 2019 so that you pick your favorites for your dog. Keep reading!
1. Chuckit! Tennis Balls Dog Toys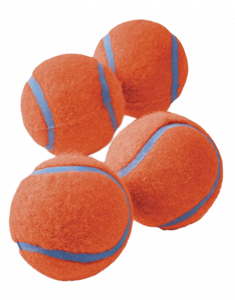 Ah, the good old tennis balls! Which dog doesn't approve? The Chuckit! Tennis Balls are available in a variety of sizes and packs and are specifically designed for dogs. They are durable, safe, and very engaging. A few highlights of these balls are below:
These balls are made out of a rubber core. They are natural and durable, designed for long-term use.

They are brightly colored. The orange and blue design is very easy to spot outdoors.

The balls are known for their high bouncing capacity, and this encourages dogs to leap up high in the air.

The rubber material is also lightweight. This property makes the balls float in water, making them the perfect toys for the beach and pool.

If you are interested and would love to make your dog play fetch, you can buy the Chuckit! Ball Launcher. It can launch the balls very far away, giving your dog more room to play and much more activity than usual.

[/vc_column_text][/vc_column][/vc_row][vc_row][vc_column][vc_column_text]
2. Whirlwheel Dog Toy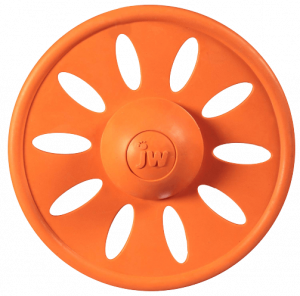 Anything that makes noise grabs the attention of your pooch, doesn't it? That's why the Whirlwheel Dog Toy is an amazing choice. It is a highly interactive squeaky toy that you can use to play tug of war or fetch. Below are a few details that you must know:
It is made using natural rubber. It is safe and strong.

It is a flying disk that also squeaks! So, it is one toy that packs double fun!

It does not fade over time.

It is washable.

It is ideal for puppies, but adults have also been known to have a lot of fun with it.

You can choose from a variety of colors, but our favorite is definitely orange because it is bright and easy to spot.

Dogs can also use it as a chew toy to exercise their jaws and to have more fun.

[/vc_column_text][/vc_column][/vc_row][vc_row][vc_column][vc_column_text]
3. Loofa Dog Toy for Australian cattle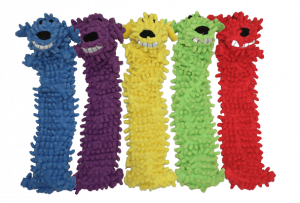 Snuggly, cute, and funky! This dog toy is multi-functional and promises all-round fun. It is also very safe to use and snuggle with. Check out the details before for more information:
It is a no-mess toy that squeaks!

You can use it as a retriever or as a back scratcher when your dog begs for some pampering. They are good options for tug of war as well.

The loofas are shaggy and funky, making them very cool toys.

The only thing to remember here is to keep watch as your dog plays and take it away if it tears. Damaged toys can be hazardous.

The toys are available in assorted colors. So, you will get any random color. But, rest assured, they are all bright and attractive.

[/vc_column_text][/vc_column][/vc_row][vc_row][vc_column][vc_column_text]
4. Ruffian Dog Toy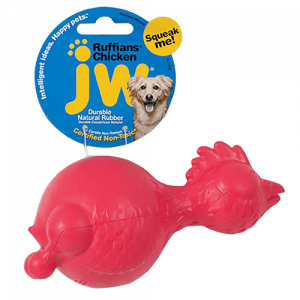 It is squeaky and bouncy. It is rough and tough. It is a dog's best friend. If you ask us to remain the best Australian cattle dog toys, we will definitely include the Ruffian dog toy on our list. Why? Keep reading to find out:
Its unique shape makes it easy to play with and ensures that it lasts long.

It is suitable for all dogs, but we would recommend caution for puppies. The toy may be too large for them.

The toy bounces well and squeaks when played with. In other words, it is the complete entertainment package for all dogs.

Also, it is infused with vanilla extract. This tickles every dog's nose and makes sure he/she keeps playing for hours at a stretch.

It is ideal for solo play as well as fetch.

It is very easy to carry around.

[/vc_column_text][/vc_column][/vc_row][vc_row][vc_column][vc_column_text]
5. Wheelies Rope Toy for Australian cattle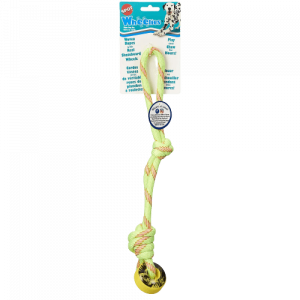 Rope toys are every dog's favorites. They are easy to pull, carry, and play with. So, it shouldn't be surprising that the Wheelies Rope Toy has made it into our list of best toys for Australian cattle dogs. Let's find out more:
These are durable woven ropes and come with wheels from real skateboards!

They are tough and designed specifically to play tug of war.

Dogs can enjoy the various textures on the ropes and have fun all along.

They are usually 16 inches long.

The toys are really interactive and a good option for solo play as well.

[/vc_column_text][/vc_column][/vc_row][vc_row][vc_column][vc_column_text]No matter which toy(s) you choose for your Australian cattle dog, we advise you to be cautious and ensure that you are always around your dog. While all the toys we mentioned are durable and proven to be safe, there is always a chance of breakage or damage. When this happens, you must take the toy away because broken parts can cause choking and injuries. Having said that, we are sure that all these toys will make your dog immensely happy and allow him to stay engaged for a long time. 
Don't forget to let us know which one you chose for your Australian cattle dog. We are always waiting for feedback and suggestions from our readers! [/vc_column_text][/vc_column][/vc_row]